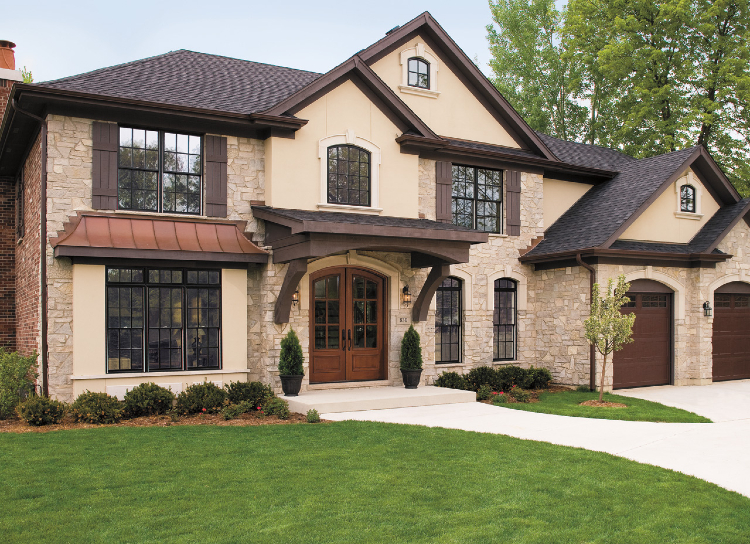 While wood windows give a classic look to a home, they come with a downside: high maintenance. They also tend to attract insects including termites, leaving homeowners frustrated. If left unattended, problems with wood windows can multiply, creating major repairs that cost you time and money. Enter the two most popular window frame materials: fiberglass and vinyl replacement windows.
Fiberglass vs. Vinyl Windows
Let's take a look at these popular options, so you can decide which window solution is best for your home.
1. Makeup
Fiberglass is sourced from glass melted under high heat and pulled into fine fibers which are woven together. The fiberglass frames expand and contract at the same rate as the glass panes. The result is a decrease in the possibility of seal failure, and the assurance your windows will keep your heating and air conditioning inside where it belongs.
Fiberglass never warps, and is stronger and more rigid than vinyl or wood. Eight times stronger than vinyl windows, fiberglass offers you lasting performance. In contrast, vinyl window frames are made of PVC, and they don't flex with the glass window pane.
2. Durability
Vinyl and fiberglass both offer greater durability than wood, but fiberglass outlasts vinyl due to its strong makeup. Vinyl lasts approximately 20-40 years, but fiberglass can last over 50 years when it is installed with precision and cared for over the years. Fiberglass windows resist warping and won't crack in spite of extreme temperatures.
Due to vinyl's makeup, it tends to expand and contract when weather changes, and the seal between the window frame and glass pane can break as a result. When this happens, your window can leak chilly air in the winter, leaving your home drafty and spiking your utilities bills.
3. Cost
Vinyl windows are affordable, and they never need to be painted. They also have good insulating properties, and save you on energy. A standard vinyl window may cost approximately $450, while a fiberglass window costs approximately $600. The overall cost difference depends on how many windows you have in your home and the size of your windows.
When it comes to the cost of fiberglass windows, they sit between vinyl and wood, making them a popular selection. Their extreme durability makes them a lasting investment (they last 38% longer than vinyl), saving you time and money in the future because you won't need new windows as soon if you choose fiberglass over vinyl.
4. Beauty
Fiberglass frames are so strong, they are able to be the sleeker frame option over vinyl, giving you more glass in your windows. Enjoy greater views with fiberglass window replacements. Vinyl replacement windows tend to have seams in the corners, and a little thicker look to them, making them easier to spot in a home.
5. Paint Options
While both fiberglass and vinyl come in a variety of colors, fiberglass can be painted, and vinyl can't. Fiberglass can also be textured to look like wood, but vinyl window frames are smooth.
6. Energy Savings
For over 100 years, fiberglass has been used as insulation in homes due to its excellent insulating properties. Fiberglass windows offer better insulation than vinyl windows for your home, saving you on utilities bills throughout the year. Fiberglass replacement windows can be up to 15% more energy efficient than vinyl windows.
7. Peace and Quiet
Both fiberglass windows and vinyl windows help decrease noise intrusion in your home, giving you more peace and quiet to enjoy throughout the year.
8. Maintenance
High maintenance wood windows need to be sealed, painted, and repaired regularly. They can tend to hold moisture, and may cause more problems than other window materials. In contrast, both vinyl and fiberglass windows remain almost maintenance free throughout their lifetime. Regular cleaning is a must for both vinyl and fiberglass, and fiberglass may need to be repainted at some point. If your vinyl windows develop a broken seal, you will need to caulk them to reseal them.
9. Installation
Fiberglass requires professional installation due to the fact that it's so rigid. In order for the warranty to be honored, fiberglass windows need to be installed by trained contractors, ensuring your windows will perform as they were designed to for decades.
Vinyl windows are a bit more forgiving than fiberglass in their installation, and can be mounted by homeowners with some handyman skills. Vinyl windows installed by ambitious DIY homeowners may or may not perform optimally for the long term, but they are more affordable initially.
10. Pest Resistance
While wood windows attract pests like termites and carpenter ants, both vinyl and fiberglass windows resist pests. You can avoid unwanted pest infestation by choosing either vinyl or fiberglass windows.
11. Moisture Resistance
Wood windows can tend to hold moisture, which can lead to wood rot, mold, and mildew. Unfortunately, once water is retained in wood window frames, trouble can escalate as moisture finds an inroad into your home. Costly repairs result. Avoid water retention with either vinyl or fiberglass windows. Both are made of inert substances that don't absorb moisture.
In conclusion, both vinyl and fiberglass window frames offer you viable options for your Omaha home. They will stand up to the weather, insulate your home from the elements, and give you clear, refreshing views to enjoy year-round. They both boost your home's curb appeal and add overall value to your home.
The choice is yours. Take time to weigh the facts about fiberglass and vinyl windows along with your budget, timeline, and long-term expectations. Fiberglass offers outstanding durability and long-term performance. Vinyl gives you a cost-effective option that never needs to be painted.
At TeVelde and Co., we install Enerlux Fiberglass Windows and Pella Windows in all materials so you get every advantage on the market, including a lifetime warranty on the frame, replaceable glass, and paintable frames should you want to change the color. Our customers love working with us and we love working with them. Read what they say about their experiences with our team.