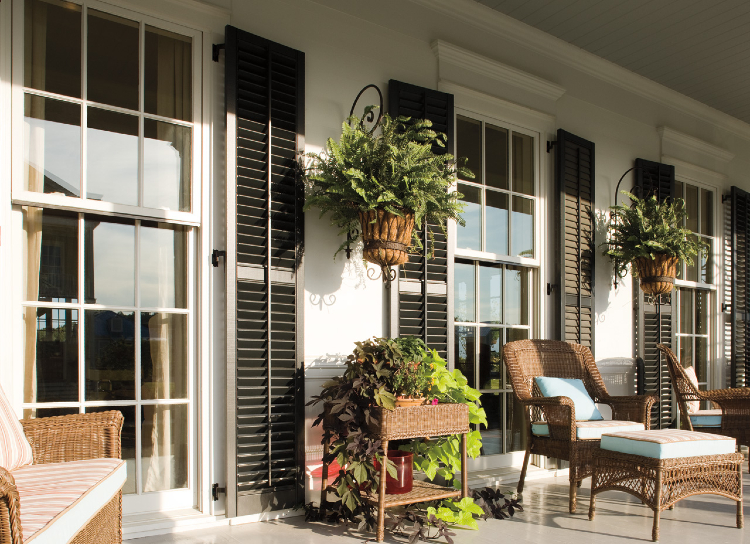 Windows usually last decades, so it's wise to take time to research your options before deciding on what's right for you. Homeowners who choose fiberglass window installation enjoy durable, beautiful windows that boost curb appeal, home security, and resale value. Vinyl window installation offers homeowners another viable choice when it comes to replacement windows. Its low maintenance and affordability make it an attractive option as well.
At Tevelde and Co., we understand that it can feel overwhelming to sift through facts about windows. We aren't about high-pressure sales; we simply educate you so you can make the right decision for your home and budget. We give you options that fit your needs and lifestyle. And we don't try to upsell you on products or services you don't need.
How to know it's time for new windows
There are a variety of reasons for window replacement. Here are a few questions to help identify if it's time for new windows:
Are your current windows hard to open or close?
Do you have broken windows that compromise your home's security?
Are there drafts or changes in temperature near your windows?
Do you have wood rot, condensation, or water stains due to moisture accumulation?
Are your windows moldy or warping?
Have your utilities bills increased, but you're not sure why?
Fiberglass vs. Vinyl Window Replacement
When deciding which material is right for your new windows, there are several factors to consider. Let's take a look at some basics about fiberglass vs. vinyl replacement windows, and then look at their cost differences.
Pros of Fiberglass Replacement Windows
Fiberglass replacement windows add great value to your Omaha home.
Extremely strong
Lasts up to 40-50 years
Eight times stronger than vinyl
Don't expand or contract with temperature changes
Won't warp
Thinner frames give you more glass to enjoy greater views and more natural light
Greater energy efficiency
Better insulation value
Easy maintenance
Eco-friendly material
Longer lasting performance
Look more like wood
More color options available than vinyl windows
Unlike vinyl windows, there are no join lines at the corners of fiberglass windows
Self-extinguish if a fire occurs, and they don't give off toxic fumes
Cons of Fiberglass Replacement Windows
Higher priced than vinyl—due to their durable nature and labor costs
Not as readily available as vinyl windows
Require some maintenance—such as painting—to keep them looking good
Darker colored fiberglass windows may fade over time
Pros of Vinyl Replacement Windows
If you choose vinyl window replacement, you never have to paint your windows again.
Affordable
Easy installation
Readily available
Fade resistant
Low maintenance
No painting needed—ever
Resist condensation and heat transfer
Cons of Vinyl Replacement Windows
Limited amount of colors available
They expand and contract as the temperature changes, which could cause warping or a decrease in the effectiveness of their air seal
There can be a join line at the corners of vinyl windows
You can't repaint vinyl windows, so if you change your siding color, your current window color remains the same
In a fire, vinyl windows burn and release toxic fumes that are extremely hazardous to your health
The Price of Fiberglass Windows vs. Vinyl Replacement Windows
Replacement window prices vary based on the size of the window, type of glass and hardware. Your geographic location and current labor rates also impact the price of your window replacements.
In general, fiberglass windows are approximately 30-50% more than vinyl windows. Factor in the number of windows in your home as you look at the overall price. Installation is also a greater investment for fiberglass windows than it is for vinyl due to the flexibility of vinyl window frames vs. the rigidity of the fiberglass ones. Vinyl windows can cost around $450 per small window. Basic fiberglass windows can cost around $600 per small window.
Energy Efficiency of Replacement Windows
As you ponder the price of window replacement, consider also the year-round energy savings you will enjoy once your new windows are installed. Windows are a major contributor to energy loss inside a home, so expect savings after you replace your windows.
Fiberglass Window Replacement—Enjoy optimal energy efficiency long-term with fiberglass window replacement. Fiberglass windows don't expand and contract, so air gaps don't form in the seals. Fiberglass insulates better than vinyl long-term.
Vinyl Window Replacement—Vinyl windows expand and contract. As a result, air gaps can form in the seals, causing your heating and air conditioning to leak.
Installation Time for Window Replacement
A vinyl window takes approximately two hours to install.
A fiberglass window takes approximately 3 hours to install.
Benefits of Replacement Windows
Improve comfort inside your home—Window replacements give you year-round indoor comfort, keeping temperatures consistent throughout your home.
Enjoy low-maintenance windows—Replacement windows boast easy-to-clean features, saving you time and effort on home maintenance.
Increase your home's energy efficiency—Lower your utility bills for year-round savings.
Enjoy greater views—Refreshing views of the outdoors await.
Gain more natural lighting indoors—Light streaming through new windows boosts your home's atmosphere.
Enhance your home's curb appeal—Increase your home exterior's beauty and resale value.
Decrease noise intrusion—Lower the possibilities of outdoor noise coming inside.
Benefit from a high return on investment (ROI)—Window replacements offer you a high yield on investment.
Home exterior contractor, Tevelde and Co., installs Enerlux® windows, so you get every advantage on the market, including a lifetime warranty on the frame, replaceable glass, and paintable frames should you want to change the color in the future. We keep you informed during your window installation process and send you daily updates so you know what we just completed today, and what we plan to complete tomorrow.
We take the extra steps to remove all old window trim so that you get the best look on the block. We follow the manufacturer's best practices to ensure your warranty is protected. Take a look at our gallery and dream a little about how new windows can transform your home. Contact us to set up a consultation.