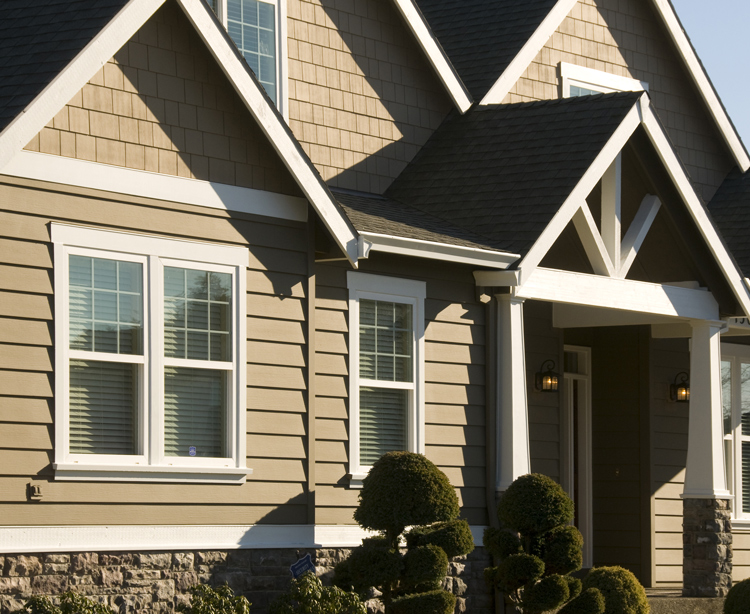 When choosing replacement siding for your home, consider the fact that it will protect your home 24/7, and needs to stand up to extreme weather. Omaha, Nebraska homeowners are aware of the year-round weather their homes are subject to, including snow, ice, hail, and even tornadoes. Sometimes weather can be tough on home exteriors and erode siding, creating unsightly cracks, chips, and even moisture damage. When your siding, the protective layer of your home, is compromised, damage can spread quickly. Avoid the troubles of possible water damage, and wood rot. In place of siding hassles, invest in James Hardie® siding—America's favorite siding product.
When it comes to protecting your home exterior, nobody wants to deal with the hassles of wood rot, color fading, chips or cracks. Structurally, siding is a critical part of your home. When you invest in the best siding product in America, you'll enjoy a beautiful siding product for years to come. The experts at TeVelde and Co. believe James Hardie siding's proven track record of delivering durable, beautiful siding makes the siding replacement decision simple.
Advantages of James Hardie Fiber Cement for Siding Replacement
It's important to protect your home with durable siding that will safeguard it from the Omaha weather, preserving its beauty and performance. Here are some of the advantages of James Hardie siding products:
1. Low maintenance
James Hardie siding will keep you smiling year-round because it is so easy to maintain. Simply use your garden hose to rinse off your siding twice a year. Apply a nonmetal, medium bristle nylon brush to remove any dirt from your siding, and rinse thoroughly. It rarely needs to be repainted, and holds up to the harsh Omaha weather, maintaining its beauty with little to no maintenance.
2. Termite resistant
Wood siding can actually attract termites, woodpeckers, and moisture damage. But James Hardie fiber cement siding resists unwanted pests including termites, insects, and woodpeckers. Avoid the unnecessary trouble pest infestation can cause by investing in trusted James Hardie siding and trim products.
3. Try before you buy
Take a peek online at how your home will look with the James Hardie siding by using the handy color visualizer tool. Enjoy "trying on" different siding styles online before investing in your replacement siding.
4. Climate specific siding
Engineered for Climate®—James Hardie siding is made specifically for the region of the country in which it is used. Get the optimal product for Omaha, Nebraska and the surrounding area weather, with the HardiZone® System. The HZ5 product is ideal for Omaha.
5. America's favorite siding
James Hardie siding has been used on over 8 million homes in North America for many reasons: durability, beauty, warranty, and more. Over 18 billion square-feet of this outstanding siding product has been installed.
6. Excellent performance
A home's siding, and its proper installation, protects your home during extreme heat or cold. It also resists damage from the change of seasons, windblown debris, moisture, rotting, warping, and hail. James Hardie siding is resistant to excessive rain, snow, and even severe ice storms.
7. Style to match your taste
Select from a wide variety of siding options such as HardiePlank lap siding, HardieShingle siding, HardiePanel vertical siding, HardieTrim for your home's finishing touch, and HardieSoffitt.
8. Unmatched beauty
Homeowners enjoy the long-lasting beauty of James Hardie siding. If your curb appeal is lacking, James Hardie replacement siding will give you the aesthetics you've dreamed of. Increase your home's resale value, and enjoy coming home again with this gorgeous siding product.
9. New product choices
James Hardie's newest siding line—The Aspyre Collection—provides unmatched beauty with style options from traditional to contemporary and modern homes. This line offers creative and beautiful solutions for today's homeowners by combining the thick, distinct shapes of Artisan® siding with the smooth geometric Reveal® Panel System. The Aspyre Collection offers aesthetically pleasing, varied textures which give designers unique style alternatives to satisfy even the most distinct taste.
10. Lasting color
James Hardie's ColorPlus® Technology gives homeowners baked-on color that resists fading, keeping your siding looking amazing with minimal maintenance. Its 15-year warranty makes it a favorite among homeowners. With ColorPlus technology, there is no need to repaint, so you can enjoy a low maintenance home exterior. James Hardie also offers a pre-primed option that can be painted any color you choose after it's installed.
11. Fire resistance
James Hardie siding is resistant to flames and heat (unlike wood or vinyl siding). It doesn't contribute to fueling a fire, giving homeowners peace of mind regarding their safety. Because it is rated as noncombustible, it can sometimes help lower your insurance.
12. A wise investment
The initial investment you make in this amazing siding pays off for decades due to its durable makeup. You'll save time and money in the long run from this wise investment.
13. Exceptional warranty
All James Hardie siding products come with a 30-year, non-prorated warranty, and the trim products come with a 15-year non-prorated warranty you're sure to appreciate. This is the best warranty in the siding industry. When installed by a James Hardie Elite Preferred Contractor, the fabulous warranty holds.
14. Tested results
HardiePlank lap siding is supported by the coveted Good Housekeeping Seal from the Good Housekeeping Research Institute.. The distinguished honor was granted after using state-of-the-art equipment to test HardiePlank lap siding for its ability to endure weather, resist moisture retention, resist fading, resist fire, resist heat, and more. This stamp of quality is awarded only after rigorous product assessment
Choose a James Hardie Siding Contractor
When in the market for James Hardie siding, be sure to hire an Elite Preferred James Hardie siding contractor so you can rest assured the outstanding warranty will be honored, and your siding will be installed with precision and according to the James Hardie reliability standards. See what a James Hardie siding contractor can do for you, and love coming home again.