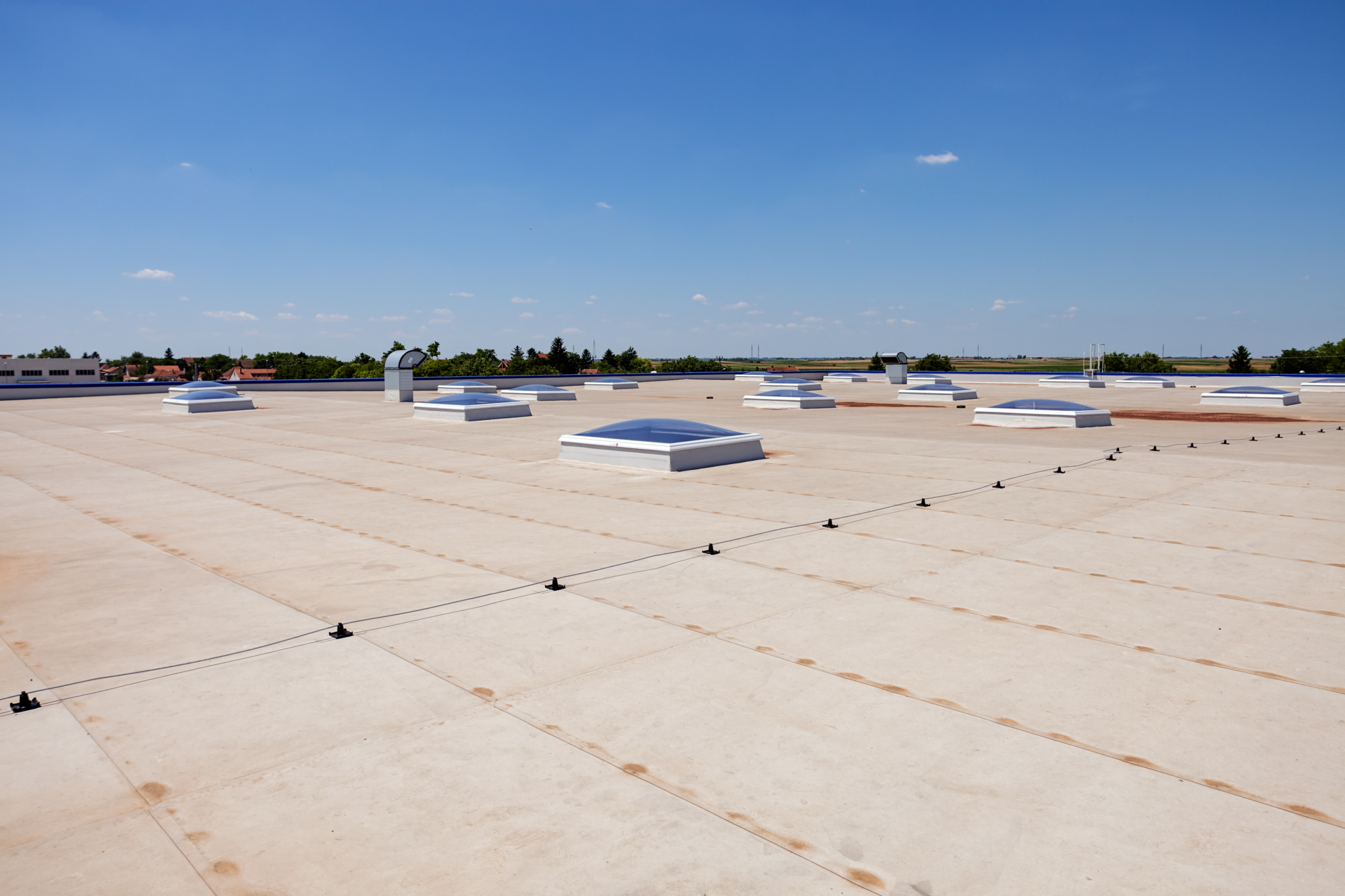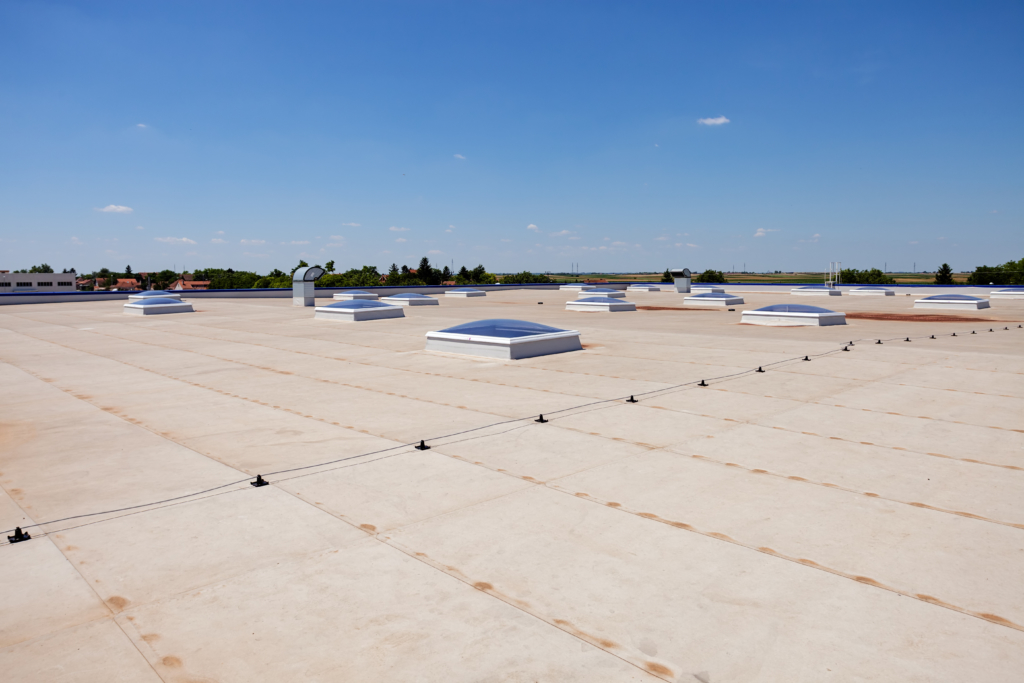 Like its residential equivalent, commercial roofing is designed to protect your property from the elements. However, that's about as far as the similarities go. Commercial roofing uses unique heavy-duty materials and specialized construction methods to provide a tough and durable end result that can stand up to the rigors of daily industrial use. In this guide, we'll examine the specialized materials used in commercial roofing and their advantages so you can better understand their potential benefits for your property! Contact Tevelde and Co. today for more information and to schedule a free commercial roofing estimate.
What is Commercial Roofing?
As a whole, commercial roofing is designed to suit the unique needs of large-scale commercial properties and incorporates roofing systems and materials that are far different from those found on residential properties. Commercial roofing is available in a nearly endless variety of designs, materials, and systems that can be modified for a wide variety of industrial purposes, such as the need to support heavy HVAC equipment and maintenance personnel walkways over a massive warehouse, among other uses. This massive selection of roofing options makes commercial roofing more specialized and involved than typical residential roofing, which has a comparatively smaller set of needs and roofing solutions.
How Does Commercial Roofing Differ From Residential?
Besides the materials and roofing systems themselves (which we'll cover later in this guide), one of the primary differences between residential and commercial roofs is the typical angle of the roof's slope. Most residential properties typically have pitched roofs at a relatively steep angle that is well-suited to their smaller footprint. The larger roofs found on commercial buildings are typically either flat roofs or built at a very low slope to help keep costs down and increase safety over a larger surface area. Besides the slopes, commercial roofing materials are designed for heavy-duty, long-term industrial use and are applied using methods and techniques devised to be efficient to install and repair on a larger property.
Flat Roofing Requires Experienced Contractors
Commercial roofing doesn't have a lot in common with standard residential work, but they do share one fundamental idea: installing and maintaining a roof on your property, whether commercial or residential, is an investment in the long-term health and value of your building. If you're going to make this kind of long-term investment, it's critical to ensure that you work with roofing contractors that are trained, certified, and have experience working with commercial roofing. Quality work performed by a company with an undeniable reputation will help you get the most value for your investment, both right away and far into the future.
How Much Does It Cost to Install or Replace a Flat Roof?
Ultimately, there are so many factors that go into determining the cost of installing, replacing, and maintaining commercial roofs that it's best to contact a roofing professional for an estimate, along with suggested roofing solutions for your property. There are a few key elements that will have an impact on the total cost:
• Roofing material
• Construction style
• Square footage
• "Accessory" features like new or existing skylights, equipment, etc.
• Local, City, and State permits
While it's difficult to give a general cost for commercial roofing without these details, it's safe to say that hiring a proven and experienced contractor is the surest way to get the full value for the investment you're making in your property.
What are Common Types of Commercial Roofing?
Just as residential homes have a few popular roofing options that make up most of the market, so do commercial roofing systems. There are dozens of different materials and styles in the commercial roofing industry, but most commercial properties throughout the U.S. have come to rely on a handful of common types that offer a proven mixture of durability, reliability, and affordability. Ultimately, selecting the best option for your particular building will come down to your unique business, property needs, and budget.
EPDM Membrane Roofing
EPDM Roofing is among the simplest, most adaptable, and longest-lasting types of commercial roofing, which is why it's commonly found nationwide. EPDM is an acronym for Ethylene Propylene Diene Monomer, which is a single-ply rubber material known for elasticity, toughness, and incredible resistance to damage from the ultraviolet light emitted from the sun. Sometimes referred to as a Thermoset roof, EPDM is relatively inexpensive due to its single-ply design, easy to install and maintain, and known to last up to 20 years with proper maintenance.
Built-Up Roofing (BUR)
Built-Up Roofing, or BUR for short, is one of the oldest commercial roofing materials around, and it's still in use today for good reason. BUR roofing is typically constructed from 3-5 layers of bitumen (or asphalt), fabric, gravel, and, on occasion, aggregate stone to produce a roof that is tough, fire-resistant, and better able to deal with extreme swings in temperature, such as those found in states that have hot summers and freezing cold winters. Due to their multiple layers and specialized construction methods, these types of roofs typically have more tensile strength than other commercial styles, making them ideal for supporting roof-mounted equipment, personnel walkways, and other weight-intensive commercial needs.
PVC and TPO Roofing
PVC (Poly Vinyl Chloride) and TPO (Thermoplastic Polyolefin) roof membranes both belong to a similar grouping of single-ply thermoplastic roofing materials, but they each have their own distinct advantages and disadvantages. In general, TPO roofing is more reflective than PVC, meaning it is more energy efficient and more resistant to puncture damage. On the other hand, PVC roofing is more flexible, resistant to damage from chemicals, and, because it's applied as one continuous piece, less likely to leak. On average, both roofing styles can be expected to last around 20 years with proper maintenance.

Metal Roofing
Metal roofing is a tried-and-true commercial roofing material that is well known for its long lifespan, incredible toughness, and unique aesthetics. In fact, metal roofs have been around for hundreds of years, and the fact that they're still in use today is a testament to their reliability as a roofing system. While they're available in a wide variety of sub-materials like galvanized steel, copper, zinc, tin, and others, they all share an incredible fire resistance, durability, and extended life – some metal roofs have been known to last upwards of 70 years! Metal roofs offer one more surprising advantage; they're more reflective than one might believe at first glance, so they can have a helpful and lasting impact on environmental costs.
Modified Bitumen Roof Systems
Like BUR roofs, Modified Bitumen roofs are constructed in layers to help reinforce the roof as a whole and provide additional stability and protection. Modified bitumen is also known as APP (Atactic Polypropylene) and combines asphalt, polymers, and fillers to produce a single-ply material known for a long lifespan, simple installation, and adaptability – it can be installed in both hot or cold weather, meaning your building can get the protection it needs no matter the season. Modified bitumen roofs also offer excellent ratings against fire, wind, and hail damage, making them a wise choice in a climate that frequently experiences severe weather.
Less Common Commercial Roofing Systems
The commercial roofing systems we just covered make up the vast majority of materials and styles used throughout North America, but depending on your business needs, you may need something more specialized. The following roofing systems are purpose-built and targeted to commercial properties with specific goals in mind regarding their roofing.
Commercial Roof Coatings
As the name implies, commercial roof coating systems adhere to an existing roof structure to provide a wide range of benefits, depending on the type. While roof coatings are ideal for use on metal roofs, they can be adapted to fit other common styles. They act as a first line of defense against the sun's UV rays, extending the roof's lifespan and keeping buildings cool to reduce overall energy consumption. Roof coatings can also defend against leaks and protect the aesthetics of your commercial roof from wearing down as quickly.
Green Roofing
Green roofs might not be the best fit for every business, but they can provide an excellent alternative to typical commercial roofing. Green roofing offers a sustainable and natural solution with several practical benefits, including natural insulation and effective storm drainage. They can also double as an enjoyable break area for employees or visitors. Additionally, green roofing helps improve local air quality and keeps the surrounding areas cooler. Cities like Portland, Oregon, have implemented incentive programs to promote more green roof installation, and they are becoming more and more common in New York City, Chicago, and other major cities in the United States.
Solar Panel Roofing Systems
The next eco-step up from green roofs, solar panel roofing systems use photovoltaic (PV) panels to absorb incoming sunlight and convert it into electricity for immediate use or resale. If your commercial property is in an area that gets a lot of sunlight throughout the year, solar panels have serious potential to create long-term savings and significantly offset both your building's energy costs and environmental footprint. On average, most solar panel systems pay for themselves between five and fifteen years after they're installed due to the energy costs they save. Solar panels require specialized expertise to install and maintain, so make sure you work with a qualified commercial roofer if you're interested in the benefits they could offer your business.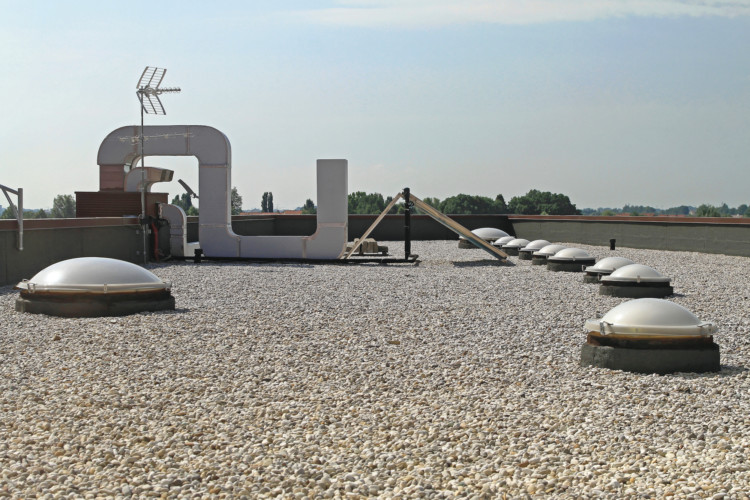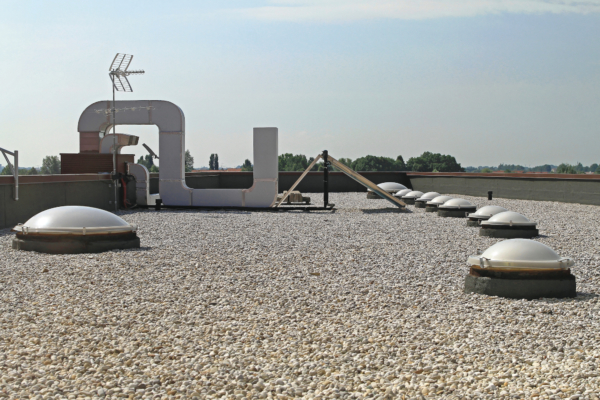 Our Trusted Commercial Roofing Services
As a leading contractor in the Greater Omaha area, we are proud to offer a comprehensive list of commercial roofing services designed to help business owners make the most of their commercial buildings. From spot repairs and routine maintenance to complete replacements and new roof installations, our team of experts is ready to design a roofing solution to cater to your needs! Contact the pros with Tevelde and Co. today for more information!
Inspections and Spot Repairs for Damage
Roof inspections and maintenance are critical to extending your roof's lifespan and preventing easy fixes from becoming disasters. Our seasoned and professional team can readily identify and spot-repair any minor issues that may be present on your commercial roof before they turn into expensive problems.
Complete Commercial Roof Installations
Most commercial roofing materials can last at least twenty years, but eventually, the time will come to replace or upgrade your existing system with a new roof. Whether you're building from scratch or need a complete replacement for your current roof, Tevelde and Co. offers a wide variety of options, materials, and styles to choose from so we can build your new commercial roof to provide maximum benefit for your property!
Routine Maintenance for Flat Roofing Systems
Routine maintenance is one of the most effective ways of protecting the investment you've made in your existing roof. As a building owner, routine maintenance provides the peace of mind that comes with knowing your commercial property is in great shape and ready for the worst Mother Nature can throw at it. Routine maintenance also reduces the potential for costly surprises from wear and tear, storm damage, and other unpredictable causes.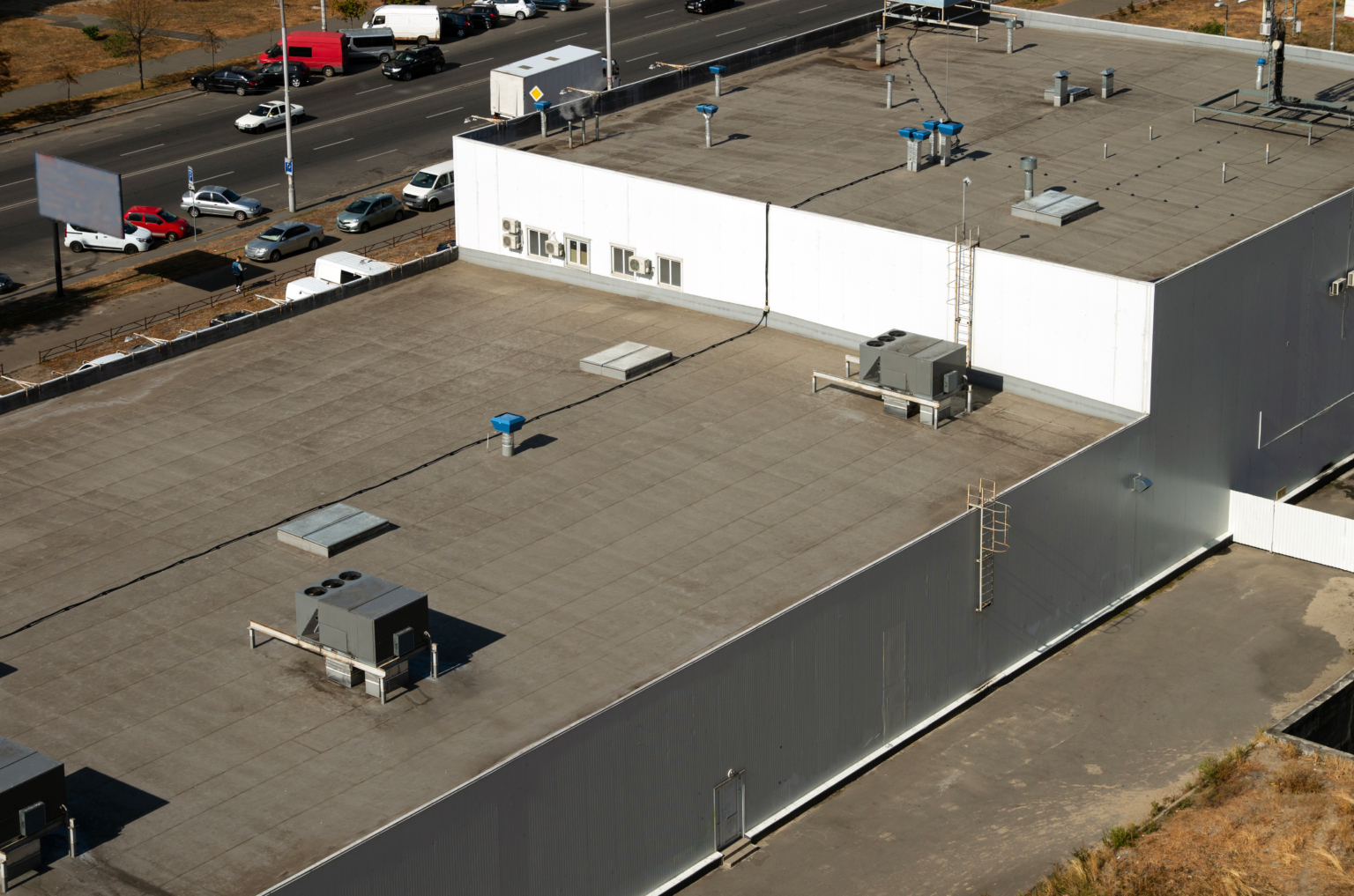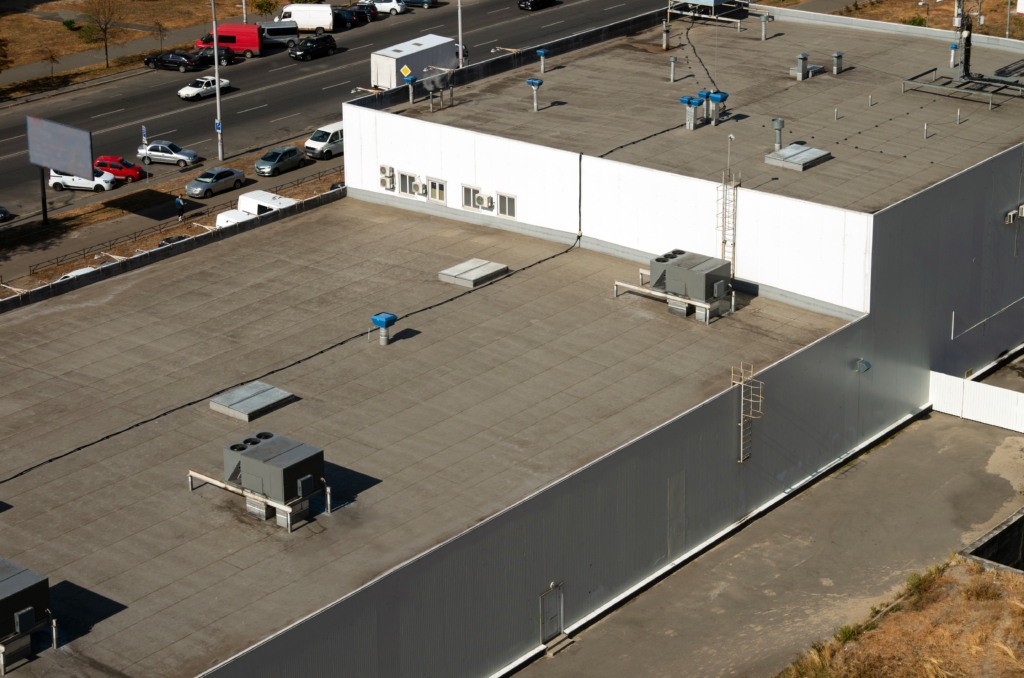 Tevelde and Co. is a Top-Rated Roofer in Greater Omaha
If you're in the market for a proven and trusted roofing contractor in the Greater Omaha area, look no further than Tevelde and Co. We have been providing industry-leading residential and commercial roofing services to our community for the past decade, and our top-rated team of experienced professionals is ready and willing to go above and beyond to meet your roofing needs! Contact us today for a free estimate.
Trusted Solutions for Commercial and Residential Roofing Projects
No matter what kind of roofing service you need, Tevelde and Co. has the team for the job. Our solutions range from top-notch residential roofing installation and repair to thorough commercial roofing services, all of which are designed using durable and tested materials and methods to ensure you get the full value for the investment you're making in your property.
Locally Owned and Operated Since 2013
For the last decade, Tevelde and Co. has been providing top-rated commercial roofing services to the businesses and community of Greater Omaha. In all that time, we've developed a reputation for providing outstanding customer service, undeniable results, and a decades-long value to our clients that they know they can trust. Our knowledge and experience of local commercial roofing help us provide the ideal solution for our client's needs, and our familiarity with the local climate means we know what our roofs have to stand up to, year after year.
Contact Us Today for a Free Estimate
To learn more about what commercial roofing style would be the best fit for your property, contact the professionals at Tevelde and Co. today for a free estimate. We'll work with you every step of the way to design a roofing system that will help you get the most out of your investment.

"High quality work, great pricing, and absolutely zero hassle or stress! Thorough explanations of exactly what you're paying for and why."
— BRANDON L.