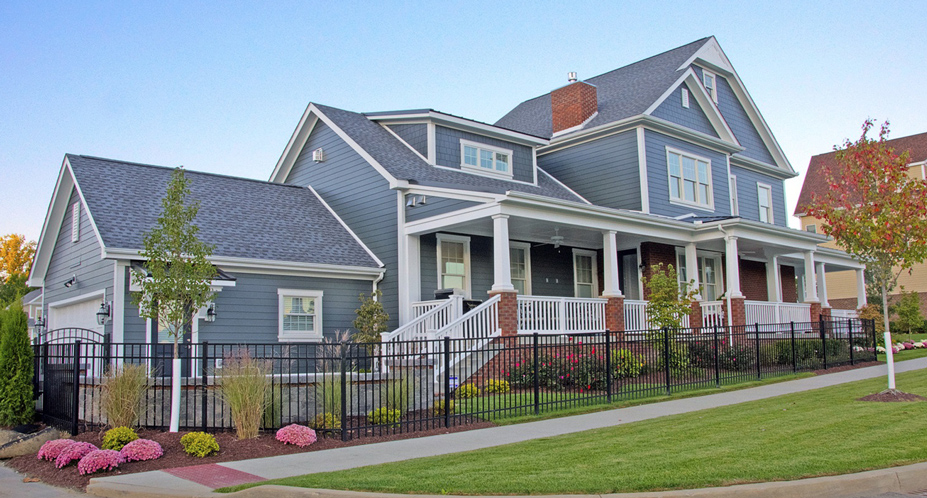 Whether you're planning to move and want to add some curb appeal or looking to make a long-term investment in a property you plan to own for years to come, exterior renovations are a great way to update a home, modernize its appearance, and keep critical pieces of your property maintained and in good condition. However, while home exterior renovations can provide dozens of benefits, they can also seem daunting, and it can be hard to know where to start.
In our comprehensive guide, we'll examine some of the most common types of home renovations along with their benefits and address some of the questions homeowners ask us throughout every stage of the process.
What are Home Exterior Renovations?
Home exterior renovations are any project that updates, replaces, or otherwise modifies some part of your home's exterior. Anything on the outside of your home you want to replace or upgrade, from doors to windows, chimneys, siding, garage doors, and everything in between, counts! Home exterior renovations can have a big impact, both in the short term and the long run, on a home's curb appeal, resale value, and the standard of living it can provide. Some home exterior renovations are done purely to increase a home's value ahead of a planned sale, while others are undertaken to update and modernize an older home to renew its lease on life.
Improving Your Home's Curb Appeal and Functionality
One of the top reasons homeowners invest in an exterior renovation is to improve their home's appearance and boost its curb appeal. This can be done to modernize and upgrade a home's style, create a more pleasing and cohesive look, and, if a planned real estate sale is on the horizon, provide potential buyers with both a visually appealing property and the peace of mind that comes with knowing their prospective purchase has been well-maintained. Even if you're not thinking about selling, quality-of-life improvements like window replacements, new lighting and walkways, or an add-on porch or outdoor living area can improve your home's functionality and help you get even more value out of the investment you've made over the years.
What are Some Aspects of Home Exterior Renovations?
Exterior home renovations cover a wide variety of shapes, sizes, and scales – they can range from something as simple as a coat of fresh paint on a property's exterior to a rebuilt garage, a new back porch, a brand-new roof, and more. Your project can be as big or small as you want it to be; it all depends on you and your home's needs. As leading home renovation contractors since 2013, here are some of the most common projects we've helped homeowners throughout Omaha bring to life!
Updated Siding Installation
New siding is one of the most visually impressive changes you can make to your home. House siding has a significant impact on a property's feel, look, and style, and switching or upgrading it can make more of a difference than a new coat of exterior paint ever could. Whether you're looking to boost your home's curb appeal, refresh aged and damaged siding, or you're zeroed in on a new, modern style, new siding has the double benefit of improving both your home's appearance and its protection against the elements at the same time. New designs, like fiber cement siding, are increasingly long-lasting, resistant to extreme weather and temperature, and energy efficient, making them an excellent long-term investment in your home.
Window Replacements
Window replacements are another major home renovation project, and for good reason. Over time, both your home's windowpanes and the frames that hold them become cracked, worn down, and unable to keep the elements at bay. New windows can improve your home's energy efficiency by keeping outside air out and your climate-controlled air in, while at the same time providing clear, pristine views of the property around your home. From the outside, clean windows offer an undeniable curb appeal and updated window frames can enhance your home's style while giving confidence to potential buyers that you've been taking quality care of your home.
New Roofing or Roofing Repairs
Almost every homeowner knows that a roof can be one of a home's most expensive parts of an external home upgrade. However, investing in a new roof through a significant remodel or a complete roof replacement can have a high return in more ways than one.
Firstly, modern roofing systems are easier to repair and maintain, more energy efficient, and more durable, all of which means that you're likely to spend less time and money repairing or maintaining a newly installed roof. Second, a new roof can provide an unmatched curb appeal by bringing your home's style into the modern era and providing a cohesive look with the rest of your property. Lastly, any potential buyers looking at your home will be soothed by the knowledge that no catastrophic or expensive surprises are lurking beneath the shingles of your property, waiting to strike as soon as they close.
Improving Landscaping, Lighting, and Walkways
Exterior home renovations apply to more than just your home itself; many homeowners see the value that comes from investing in additional landscaping renovations for their property, like exterior lighting, new walkways, and countless other landscaping additions that add immeasurable curb appeal, resale value, and aesthetic enhancements. From widening or replacing walkways, installing decorative lighting fixtures like lanterns or solar yard lights, and investing in retaining walls or stone accents, the possibilities are endless!
Addition of a Porch or Outdoor Living Area
In addition to landscaping renovations, another extremely popular home improvement project is the addition of outdoor living spaces, like patios, porches, gazebos, fire pits, sunrooms, and more. These spaces are designed for outdoor living and can feature grills (or even entire outdoor kitchens!), pools, recreation areas, and countless other outdoor entertainment possibilities. These spaces provide a welcoming atmosphere to guests, are fun for the family, and are incredibly enticing to potential buyers.

How Much Does a Home Exterior Renovation Cost?
Planning the exterior renovation project that will make your dream home a reality is fun initially, until the first real challenge crops up: cost. As we discussed earlier, home exterior renovations come in countless forms, from small changes like a new coat of paint or some replacement window frames to complete overhauls like a complete roof replacement or an entirely new patio area. Because of this, estimating a home exterior makeover cost can be difficult; without an onsite quote from a professional contractor, all homeowners can do is consider the average cost for the kind of project they're considering and use that number to put them in the ballpark.
For example, the average cost of a home exterior painting project can be anywhere from $3,000 to $10,000, depending on a variety of factors. New trim on doors and windows can be in the neighborhood of $350 to $1500 per item, and new landscaping can range from $3,000 to $10,000 or more, depending on the full extent of the project. Ultimately, if you're considering a new home exterior renovation project, it's best to contact a trusted local contractor and ask for a free consultation to help ensure that your dreams are working within your budget.
Questions to Ask Before Taking On a Home Renovation
No matter the size or scope of your project, there are always important details to sort out while you build your vision of the final product. Whether you're dreaming of a complete exterior renovation or just a few replacements and upgrades here or there, there are a few things to consider as you work to bring your vision to life.
What Aspects are You Planning to Renovate?
In other words: how big is your project going to be? Is it as simple as a fresh coat of paint on your siding and a bit of new trim for your windows, or are you in the market for a brand-new patio area, new siding to replace what's old and aged out, and a complete roof replacement? Consider making a list and keeping track of what changes you'd like to make and why; this can help provide clarity and give you an idea of what you can cut if your project goes over budget.
How Large is Your Home?
The size of your home can greatly compound the cost and complexity of any renovation project; for example, if a complete window replacement costs $350, the difference in cost between a house with 12 windows and one with 36 can be substantial. The same goes for a new coat of paint or replacement siding; consider the size of your home and the effect that could have on any of your potential projects.
What Aspect Will Add Value to My Property?
This applies to any home exterior project, but it's particularly relevant if you're planning to sell your home or relocate relatively soon. If you're making home improvements to boost your home's resale value and curb appeal, focus on the aspects of your property that will impact your home's value the most. In this context, it might be more prudent to focus on replacing an old and occasionally leaky roof instead of every pane of window glass in your home. Similarly, consider aspects with unexpected impacts; data shows that a fresh coat of paint on a home can add as much as 5-10% additional value for potential buyers!
What is Your Personal Budget?
Before you get too deep into planning any exterior makeovers, create and stick to a realistic budget that will help you determine which projects are attainable now and which ones will have to wait. Do your research and contact a trusted local contractor for an estimate so you can decide whether the project you have in mind is affordable or whether your money would be better invested in other aspects of your home.
A Professional Contractor Can Give You a Detailed Estimate
The actual cost of almost any home exterior project is difficult to generalize; it's always best to contact a proven and reliable local contractor like Tevelde and Co. for a free and detailed estimate when you're building your budget.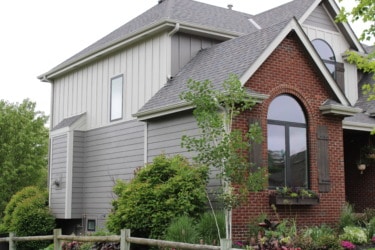 Choosing the Right Contractor for Home Exterior Renovations
Once you've done your homework and built up your vision, it's time to find someone to make it a reality. Don't trust your dream project to just anyone; when you're seeking out a contractor for your next home renovation, it's important to choose one with a trusted reputation and proven results. Surfing through page after page of local reviews and reading "About Us" sections on websites might seem like a waste of time, but it's vitally important that you make an effort to find and work with the right contractor for your project. Don't let all the work you've done so far go to waste!
Do Your Research When Vetting Contractors
When it comes to selecting a home exteriors contractor, there are plenty of options – some are proven, reputable companies with a long list of licenses, positive reviews, and a track record of outstanding results, while others may not be the best match for what you and your home need. Before selecting a contractor to bring your vision to life, take the time to research those available in your area, read up on their licenses and certifications, browse their customer reviews, and don't be afraid to ask for estimates from several different contractors so you can compare and select the best option.
Look for Certifications and Licenses
Home remodeling work isn't a DIY job; it takes skill, training, experience, and, most importantly, licenses and certifications to prove you know how to get the job done right. Before you reach out to a local contractor, verify that they're licensed or certified to perform the kind of work you're planning for.
Read Reviews and Testimonials
Sites like Yelp, Google Reviews, and more offer honest opinions, feedback, and customer evaluations that could be valuable in your search for the right contractor. Before you hire, it's always a good idea to browse through these reviews and testimonials to see what kind of experience others have had with the business you're interested in.
Seek Out Multiple Estimates and Consultations
Lastly, there's no harm in reaching out and asking for an estimate, even if you're not fully committed to working with a particular contractor. Many contractors offer free estimates or consultations, so getting second opinions from a few different sources can help you determine whether the pricing you receive is reasonable and what kind of add-ons and fees are standard or junk!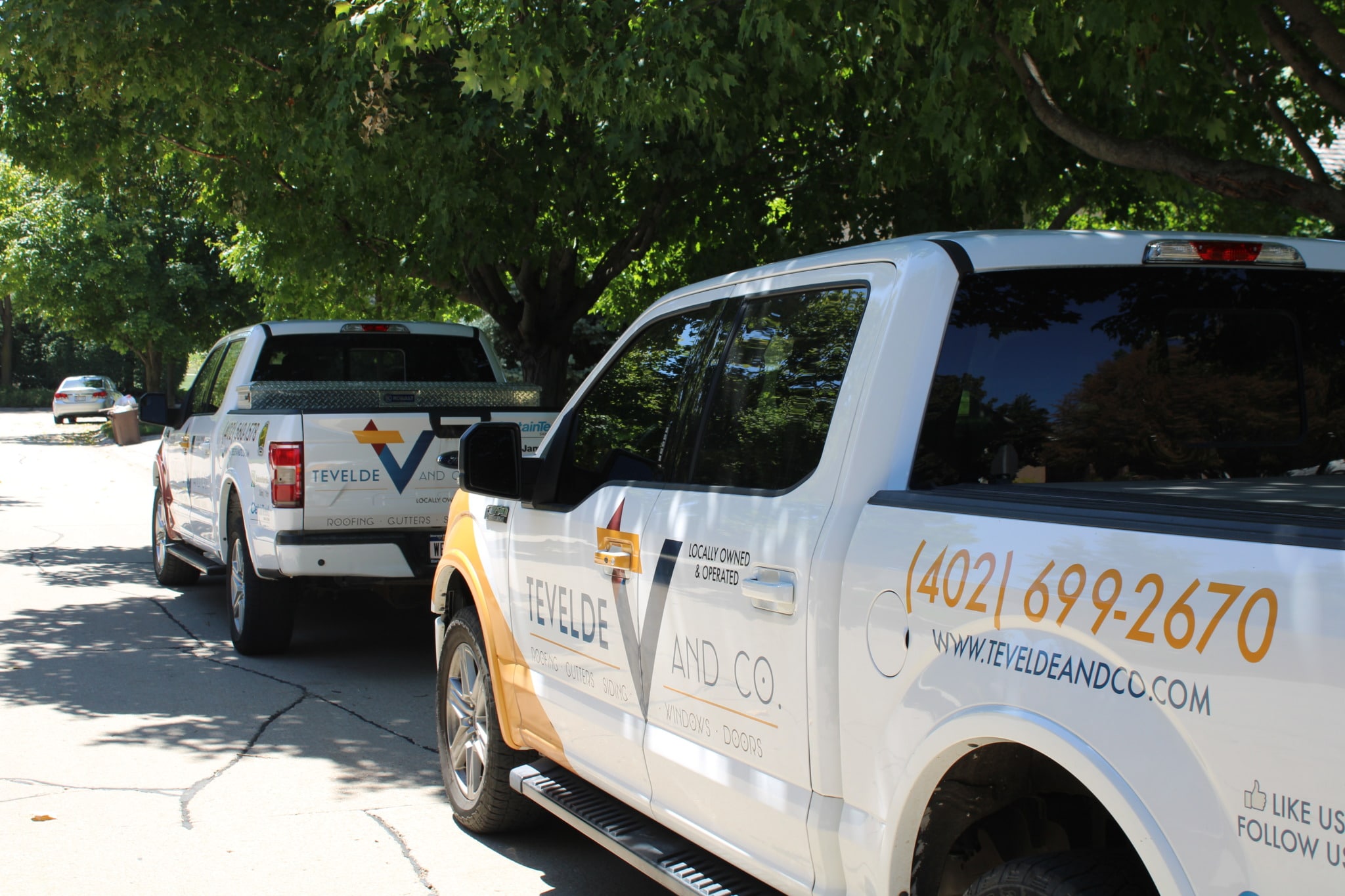 Tevelde and Co. is a Top-Rated Home Exterior Contractor in Omaha
For more than a decade, Tevelde and Co. has been the top-rated local provider of home exterior services throughout Omaha and beyond. Our dedication to superior customer service, outstanding results, and top-quality work has made us the go-to choice for homeowners when their next exterior renovation project comes along. If you're looking to invest a little extra to get the most out of your home, contact the proven and trusted professionals at Tevelde and Co.
Serving Nebraskans Since 2013 with Trusted Solutions
Since 2013, we have been proud to serve our community by providing trusted, reliable home exterior solutions for a wide variety of projects and housing types. We are fully licensed, certified, and insured, and our top team of professionals is ready and willing to do whatever it takes to make your vision a reality. From minor roof repairs to complete home exterior renovations, we're here to work with you to help turn your house into your dream home.
Professional Solutions for Siding, Roofing, Windows, and More!
Our comprehensive range of services are designed to meet your home exterior needs head-on. We are certified and licensed to repair, replace, and install every aspect of house exteriors, from siding, roofing, windows, and more! Whatever your next project is, the professionals at Tevelde and Co. are ready to work with you to bring it to life.
Reach Out Today for a Free Consultation
To learn more about our wide range of home exterior remodel services and other industry-leading offerings, contact us today for a free consultation. We can't wait to discuss your next project and help you develop a way to make your vision a reality.

"High quality work, great pricing, and absolutely zero hassle or stress! Thorough explanations of exactly what you're paying for and why."
— BRANDON L.