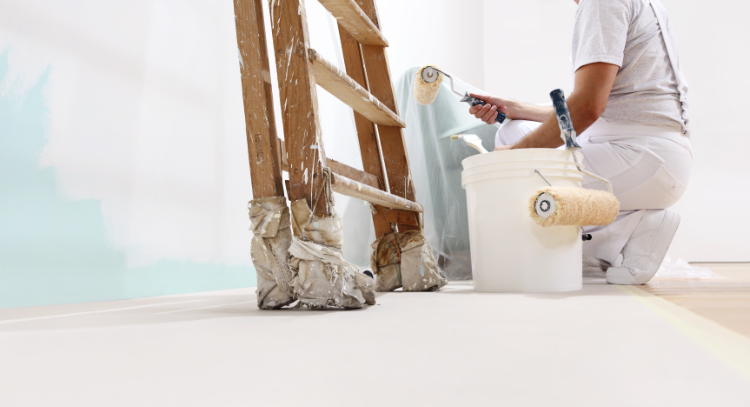 The Value of Home Interior and Exterior Painting
First impressions last. A fresh coat of paint on your home exterior makes a positive first impression, and adds to your home's value. And it will help attract buyers when it comes time to resell your property. And home interior painting brings a fresh, crisp look to your home.
Questions to Ask
When you're in the market for a home painter, it pays to take time asking questions so you hire the person who will do the very best job on your home.
1. Ask for references from at least 3 previous clients.
Nobody knows the quality of workmanship like the clients who hired them. Consider asking the references about their level of satisfaction with the finished paint job, the communication, cleanup, and other details about their experience with the painter you're considering hiring. Last, ask to see examples of there work — like a painted farmhouse style with board and batten siding — or something similar to the style of home you have. A good contractor will be able to give you great color options.
2. Tell me about the type of paint you use.
High quality paint should be used in order to get the best long-term performance from your new paint. The type of paint you use makes a difference in the life of the paint job. Equally important is the paint color you choose.
3. What is your painting process?
Ask how many coats of paint they use to paint a home exterior and interior.
4. What is the timeline for my project?
Realize weather can delay timelines, but a start and end date should be established so you can arrange your schedule to prepare for it.
5. May I have a written estimate?
Be sure to get a written estimate of the scope of work and the price for the work outlined in the estimate. The estimate should be dated. Realize if you change your mind about something after a portion of the work is done, the estimate needs to be updated accordingly.
6. What are the steps involved in preparing my home to be painted?
A home exterior in need of painting requires several steps to properly prepare it for the new paint. If the home's current siding needs to be repaired or replaced, that should be completed prior to its painting. If your current siding paint is peeling or flaking off, it will need to be properly prepped to get the best final outcome from your new paint.
7. Are you licensed?
It's much better to deal with a fully licensed contractor than one who isn't. The standards home painters meet are for your protection, so it pays to inquire if they are licensed or not.
8. Are you fully insured?
Verify the contractor has liability insurance and workman's compensation before hiring them. Liability insurance protects your property from damage by the contractor. Most companies carry at least $1,000,000 in coverage. Workmen's comprehensive insurance protects the contractors and you while they are on your property. Ask to see proof of their current policies to verify they are insured properly. If a contractor doesn't have these insurances, the risk is too high to hire them, so keep looking.
9. Tell me about the warranty.
The type of warranty that is in place for house painting should be stated in writing—for example, your exterior paint may be warrantied for up to 10 years.
10. What type of cleanup will occur after the job is complete?
It's best not to assume anything when working with a contractor. Ask detailed questions so you aren't surprised about what does or doesn't happen. If the contractor had to remove things like trim prior to painting, verify he will haul it off.
11. Who is my primary contact for this job?
There should be one person you can connect with by phone prior to and after the job is complete. Questions may arise before or after the job, and there should be someone who is familiar with the scope of work who can answer you promptly.
12. What are your criteria for hiring employees?
Ask if they do criminal background checks on their employees. It's important to know this in order to verify your belongings will be safe and secure with workers in your home.
13. If you use subcontractors, are they screened?
For your safety, the company should screen all subcontractors. Ask if they have been consistently working for the contractor for at least 2 years.
14. How do you ensure safety for your employees?
Ask if they have safety training for their employees and/or a written safety protocol. Preventing accidents is essential, and it takes training to keep workers safe.
Contractor Selection
What's the bottom line when it comes to finding the right home painter? Quality of workmanship is the main thing you're looking for in a contractor. As you interview at least three different companies, don't make your decision simply based on who gives you the lowest bid. The more expertise the workers have, the better your home will look for years to come. You'll be most satisfied with the end result of hiring an expert, rather than just the person with the lowest bid.
TeVelde and Co.—a Reliable Home Painting Contractor
When looking for a house painter, TeVelde and Co. offers full-service interior and exterior painting with excellence. When it comes to painting, you won't find a more meticulous team than TeVelde.
We offer siding installation services and provide a convenient online visualizer tool. Easily transform photos of your home into a scaled 3D model on your smartphone. Simply download the HOVER app, and follow the simple steps. Hover gives you the opportunity to make visual changes to your siding, windows, and more with home upgrades. Rest at ease when you try before you buy with this handy online tool.
Call now or send in our online form to schedule a free consultation.