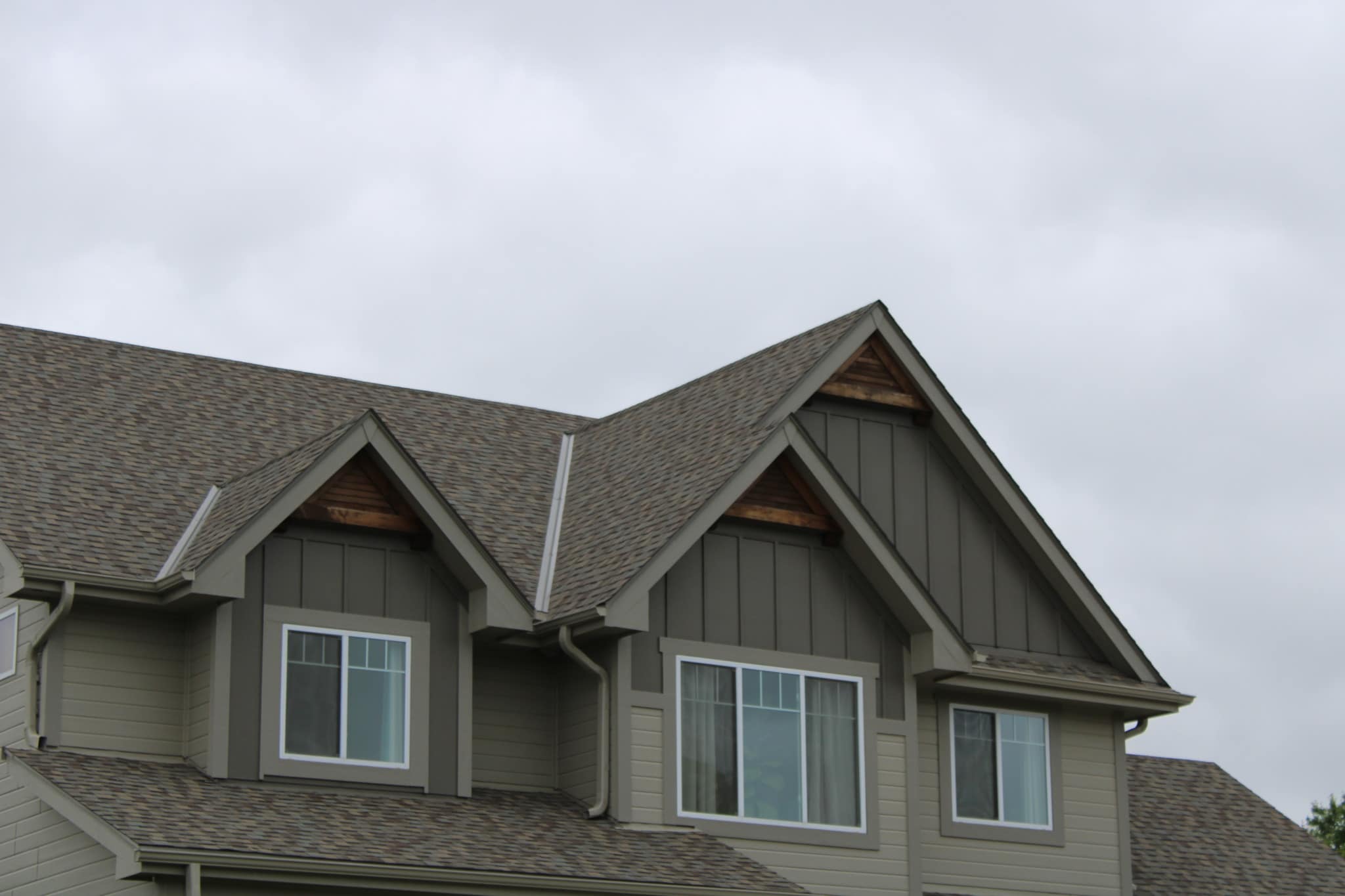 When it comes to roofing, many homeowners can be overwhelmed by the sheer number of options presented to them as it pertains to materials. Shingles, tiles, metal roofing, membranes, and more can all form robust roofing systems. Further, if a homeowner opts for shingle roofing, there are an array of different shingle types on the market today!
In this brief guide, we'll go over some of the most common types of shingles for roofing systems and outline why Tevelde and Co. is a trusted contractor for Nebraskans! Read on to learn more, or contact our team today for a free consultation.
New Roofing Can Bring Many Benefits to Your Property
Though choosing to embark on a completely new roofing project may seem daunting on its face, fresh roofing can provide a great number of benefits to you and your property. These benefits can include improved protection from weather, moisture, and debris, improved insulation and energy efficiency, and bolstered appearance and curb appeal.
Added Protection from the Elements
Even the highest quality, best-installed roofing systems can begin to fail over time, which can leave your home vulnerable to wind, rain, snow, hail, flying debris, and more. That's why many homeowners opt to completely replace or repair their home's roofing every decade or so – refreshed, new roofing systems are less damaged and deteriorated, meaning they stand up even better against the elements throughout the year. Flashings are not yet damaged, edges and seams are sealed more effectively, and shingles have yet to be dented, chipped, or unadhered, keeping your home's interior safely sealed off from the elements!
Boosted Energy-Efficiency and Insulation
In addition to improving your home's weather resistance, new roofing can also boost your home's overall energy efficiency by improving its insulation and preventing the leakage of hot and cold air, depending on the season. This improved insulation doesn't just help the environment by limiting the amount of electricity you need to use in order to effectively heat and/or cool your home; it also saves you money on bills in the long run!
Increased Curb Appeal and Home Value
New roofing can also boost your home's curb appeal, which can be a huge benefit to homeowners. Refreshing your roofing gives homeowners the opportunity to get rid of unsightly roof blemishes like damage, mold, and warping, improving its overall appearance. Additionally, a new roofing project can give you the opportunity to change up your home's style! Maybe you want to go for something a bit more modern, like a metal roof, or maybe you want to go with sleek, classic slate shingles. Either way, repairs and replacements can provide the perfect excuse to try out a new look for your home.
Since your home's value is partially tied to how appealing it looks from the curb – a term aptly called "curb appeal" – choosing a new, more attractive roof does more than just give you something nicer to look at. Instead, homebuyers value your house more if its exteriors are clean, sleek, and cohesive – meaning that you might make more if you're looking to sell your house in the future!
Popular Types of Roof Shingles for Homeowners
Below, we will outline some popular types of roofing shingles and their benefits for homeowners in Greater Omaha. Contact our professional team at Tevelde and Co. today for more information and a free consultation!
Asphalt Shingle Types
Single layer, asphalt shingle roofs are one of the most popular roof types on homes in the United States, and for good reason! They are relatively affordable, durable, able to be formed in a number of attractive and modern colors and styles, and they are easy to manufacture compared with some other residential roofing types.
Three-Tab Asphalt Shingles
Three-tab asphalt shingles are a type of asphalt shingle that are becoming less common as the years go by. They come with a lower wind rating that new roofing materials and they don't last as long either. The wind resistance tend to be around 75 MPH, although different brands might vary slightly. Because of these features, they tend to be the more cost effective option for some homes, which is why you will still see them around. But the industry as a whole is slowly moving away from three-tab shingles. It's also common that some manufactures change their shingle production, making it harder to match these shingles if you need to repair a part of the roof.
Architectural Asphalt Shingles
Architectural shingles are the style of asphalt roofing that has been preferred in the industry in recent years. Compared with three-tab shingles, these shingles are thicker and more durable, meaning you'll likely get more use and longevity out of this style of shingle – especially for homeowners living in stormy or damp regions. The wind resistance for these shingles can reach 130 MPH, depending on manufacturer products and installation practices.

Solar Shingles
Solar shingles, like larger solar roofing panels, are an excellent option for homeowners who would like to be able to produce some of their own energy for their home. Solar shingles can help offset energy costs – saving you money in the long term, and they also decrease reliance on the traditional electrical grid for individuals who are looking to move away from electricity generated by less eco-friendly means. While they are a large initial investment, solar shingles may make up for their price tag years after their installation, as long as you live in a sunny area.
Wood Shingles
Wood shingles, sometimes referred to as wood shakes, are another roofing material that has maintained steady popularity. They are extremely classic-looking roofing materials, harkening back to historic homes and architectural trends gone by. While many think of wood shingles as a high-maintenance material, they can be relatively affordable and durable when treated with care, whether that means cleaning or inspecting them regularly, and power-washing them appropriately to reduce the amount of mold and scum buildup that accumulates. As one might expect, wooden shingles are relatively eco-friendly, given the fact that they cost little to create and can even be composted at the end of their lifespan!
Metal Shingles
This style of shingling is popular among homeowners looking for durable, modern building materials! Metal shingles are relatively inexpensive, and they can now be manufactured in a wide range of colors and styles to match the look of your home.
Additional Materials for Roofing
In addition to the more common roofing materials listed above, some homeowners may choose to go for composition shingles or solar shingles.
Composite Shingles
Composite shingles also referred to as synthetic roofing material, are made up of plastics and other sustainable materials, which combine to make a particularly high-quality and durable shingle. These shingles are going to be a bit more expensive when compared with similar material types like traditional asphalt, but in exchange for the higher price tag, they are much more durable and weather-resistant than many other styles.
Slate Shingles
Slate roofing is a natural, durable roofing material known for its timeless elegance and exceptional longevity. Crafted from fine-grained rock, slate shingles offer remarkable resistance to the elements, including fire and moisture. Their rich, natural colors and textures enhance the aesthetic appeal of any structure. With a life expectancy of over 50-years, slate roofs stand out as an eco-friendly and low-maintenance choice, making them a sound investment for those seeking both beauty and longevity in their roofing material.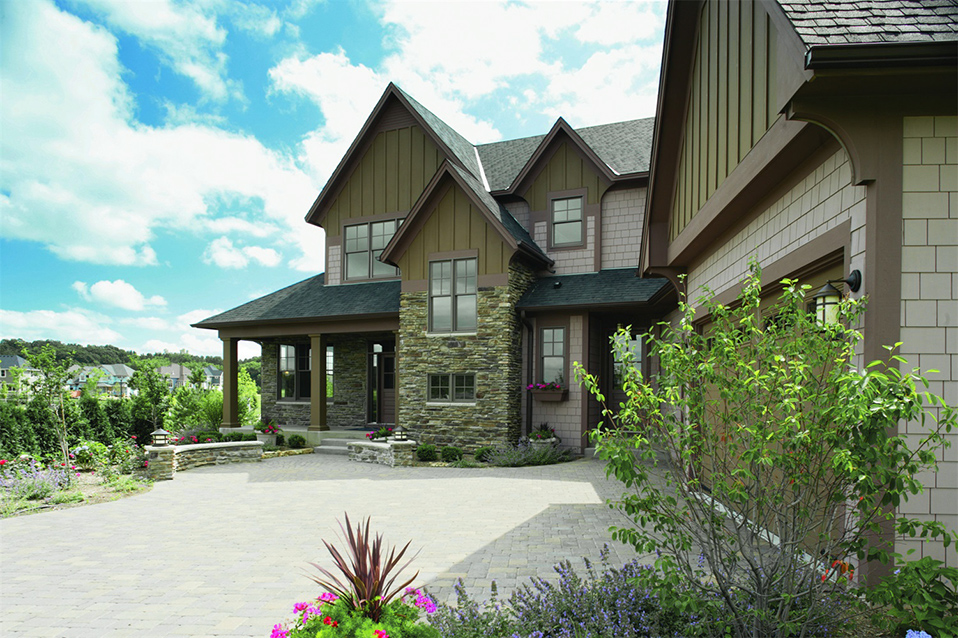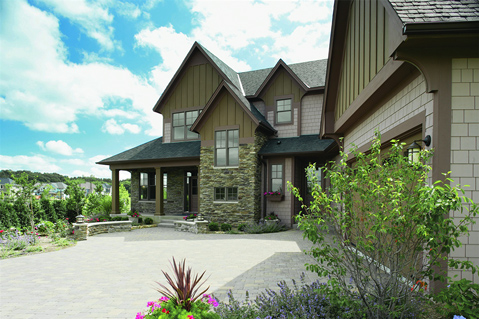 Tevelde and Co. is a Trusted Partner for Roofing in Omaha
As a top-rated contractor for home exteriors throughout Greater Omaha, Tevelde and Co. brings a decade of experience to every project we take on. Whether installing or repairing roofing systems, exterior siding, or windows, our team is proud to serve home and business owners in Eastern Nebraska with trusted solutions. Reach out today for a free consultation!
Utilizing the Best Materials and Premium Shingles
Nothing is more important to us than providing the best-quality roofing that can stand up against weathering and the passage of time. You can trust that when you work with our team, we'll use only the best-quality materials to ensure that your roof can protect you and your family for many years to come!
Localized Expertise Since 2013
Tevelde and Co. has been helping homeowners in and around Omaha to get the best roofing for their needs since 2013. Our contractors have ample local experience with a number of different materials and roofing systems, and we have countless satisfied clients to show for it!
Contact Us Today for a Free Consultation
Interested in getting started on a new roofing or home exterior project? Contact us today for a free consultation and find out the best option for your home's roofing!

"High quality work, great pricing, and absolutely zero hassle or stress! Thorough explanations of exactly what you're paying for and why."
— BRANDON L.