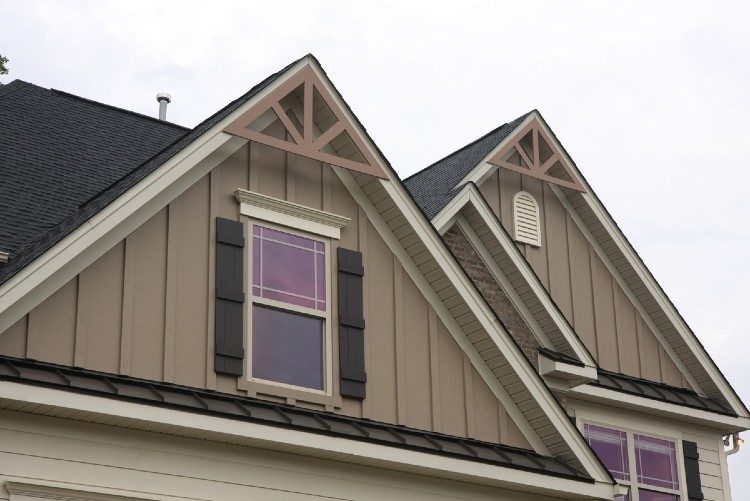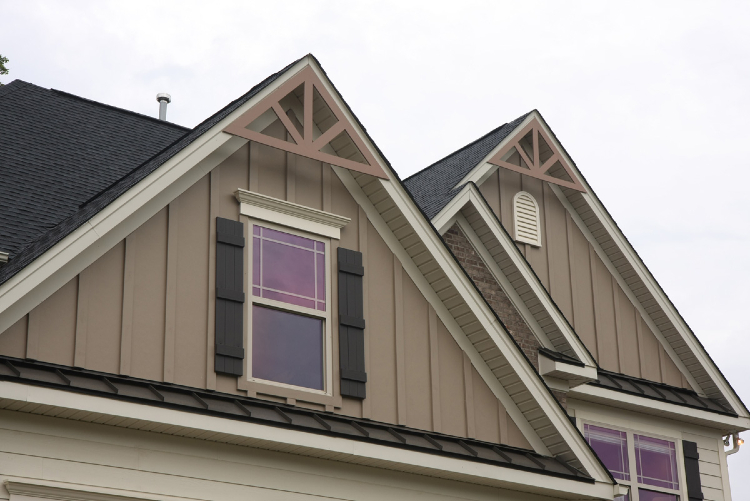 Imagine how costly it would be to finish painting your new siding and then realize you don't like the color scheme. You can avoid this predicament with some understanding of color, and some help from the pros at James Hardie siding. The color of your home adds the final touch of character and charm to your exterior's overall look. How do you go about finding the optimal color scheme for your abode? Here are some basics to get you started.
Three Color Choices for a Complete Look
Body—The bulk of your home exterior will be painted this color, and will set the tone for your home's overall look. This color takes the lead, while the other two color choices provide added interest to your home's look.
Trim—A second color is chosen to highlight your home's trim around the windows and door.
Accent—The third color choice gives visual interest and focal points to your home's entry door and shutters.
Steps to the Perfect James Hardie Siding Paint Colors for Your Home
1. Consider your surroundings.
Take a look at the basic palette of home exterior paint colors in your neighborhood. While you don't want to be a clone of your neighbors, you also don't want to stand out like a sore thumb. Find the sweet spot in your color scheme by expressing your style, yet not clashing with the general look of the neighborhood.
2. Drive and dream a little.
Take a leisurely Sunday afternoon drive, and get inspired to create the perfect look (in your mind) for your new siding. Make a note of the homes that look similar to yours and how their siding color impacts the overall look of the exterior. Note also the color schemes that are pleasing to you.
3. Begin with your architecture.
The style of your home is foundational to your color choices as well as how and where siding is located on your home. From Craftsman to Farmhouse that often uses Hardie Board and Batten siding, the details of your architecture give you great direction on color and contrast. Choose a few options for the body of your home, and look carefully at design features you'd like to highlight with an accent color. Consider mixing siding textures like Hardie Shingle and Hardie Panel to add interest to your color choices.
4. Factor in the roof color.
Roofing lasts between 20 and 30 years, so if your roof is fairly new, you'll want to choose a siding color that complements it. If you plan to replace your roof soon, you can choose roofing that balances siding well. In general, dark colored roofing pairs well with light color siding.
5. Understand how to use color to your advantage.
Light colored siding neutralizes features you don't want to draw attention to. Dark colors highlight features that command attention.
6. Realize colors look different throughout the day.
Colors change when lighting changes. The brighter the sunlight, the more intense colors look on your home. Before your dwelling is painted, try on a little color on your home exterior and check to see how it looks at various times of day.
7. Plan a coordinated color scheme.
When choosing colors for your home exterior, decide on a main hue, and then add a color that's a shade or two lighter or darker than the body of your home. Or simply choose a contrasting color for accents and trim.
8. Experiment with color at your convenience.
The James Hardie online color visualizer tool gives you the opportunity to try colors on your home before you invest in them. Play with a variety of color options until you find what suits your style.
9. Get help from the pros on your color palette.
James Hardie created color palettes to achieve the perfect look. ColorPlus Technology by James Hardie gives you fade resistant color you can count on. Baked on in the factory, this color withstands UV rays, and keeps looking great year after year. Its 15-year warranty gives homeowners confidence.
10. Enjoy the simplest way to choose color.
ColorPlus Technology makes James Hardie siding worth its cost as it gives you gorgeous colors curated by color experts that furnish your home with a coordinated, finished look. Avoid feeling overwhelmed and instead get empowered with these reliable winning options:
The Statement Collection—Make a distinct statement with your geographic region's most popular ColorPlus hues.
The Dream Collection—Fulfill your defined vision with the perfect lively color to make your home design pop.
11. Let the color wheel guide you.
Calm look—Create a calm look with colors right next to each other on the color wheel (analogous colors).
Vivid contrast—Create contrast with colors that are opposite of each other on the color wheel (complementary colors).
Low contrast—Enjoy low contrasting colors with a three color combo. Choose a primary color and add the two adjacent colors on each siding of it (color triad).
12. Realize what colors communicate.
Warm colors bring an exciting tone to your home's look while cool colors give a relaxing tone to your exterior.
13. Minimize your garage.
Rather than drawing the eye to your home's least attractive feature—the garage—simply blend it into the body of your home by painting it the same color as the bulk of your home.
Use Your Siding's Profile to Influence Your Color Choices
Achieve the perfect Board and Batten look with James Hardie siding and HardieTrim. Farmhouse design lovers choose vertical siding with a smooth finish. Creamy white and soft beige look fabulous on farmhouse design.
Omaha homeowners with cottage and coastal styles prefer the look of wood without the hassles of its maintenance, so they choose beaded lap fiber cement siding, or shingle siding. Contemporary smooth lap siding looks crisp in navy blue or gray.
Learn more about James Hardie siding and styles, and check out our gallery to get a picture of what it could look like on your home.