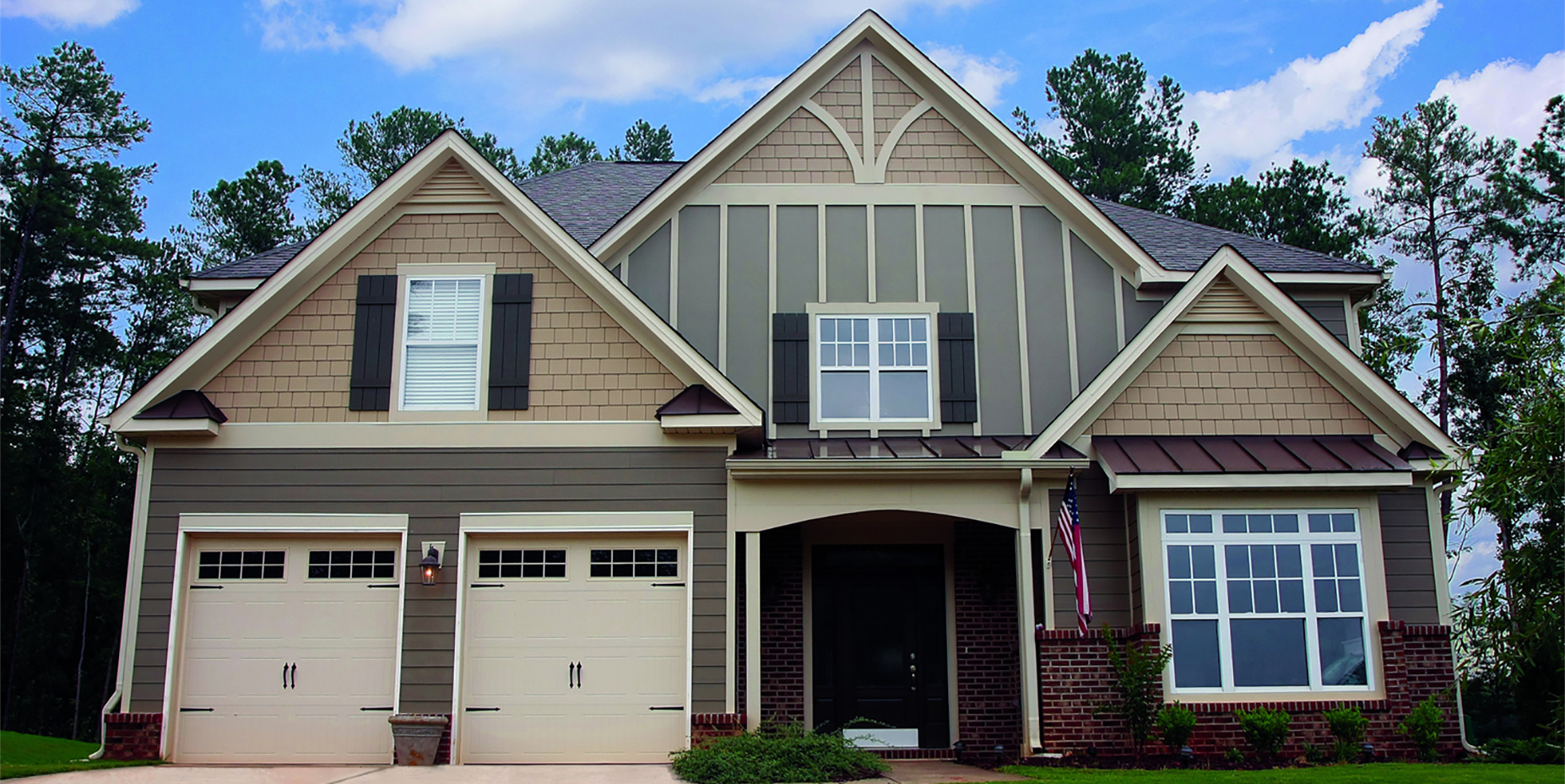 Here at Tevelde and Co., we know how much pride you take in your home, which is why we are so dedicated to helping you make sure it always looks its best! When it comes to exterior home improvements, one of the most popular options is new siding.
In Omaha, you want your home's siding to be durable and stand up to extreme temperatures and weather events. At the same time, you will want your siding to be as low-maintenance as possible to keep your spring cleaning list short. Lastly, you'll want siding that is attractive and adds to your home's curb appeal.

For all of the reasons above, Tevelde and Co. offers all of our customers top-rated and trusted siding products as one of the top James Hardie's preferred contractors in Omaha.
If you are new to James Hardie siding and want to learn why it might be one of the best options for your Omaha home's exterior, we are excited to tell you all about it; read on to learn more!
What is James Hardie Siding?
There is no doubt that you've seen James Hardie siding on exteriors in your neighborhood, as it is one of the most popular siding options on the market today.
More than three decades ago, James Hardie invented fiber cement siding, a man-made material consisting of cement, sand, and cellulose fibers that were dyed and pressed into plank boards. The benefits of this material include better durability than vinyl siding and the ability to stand up to extreme temperatures. In addition, James Hardie siding is resistant to rot, pests, and mildew.
Let's jump in and look at a few more reasons why you might consider James Hardie siding on your home! 
Performance-Tested Siding Built to Last: Benefits of James Hardie Siding
With James Hardie siding products, you will rest assured knowing that your home is outfitted with the best siding on the market. From durability to customization, James Hardie products offer an array of great benefits for your home.
Top-Rated Durability
Hardie Board siding is made to withstand the elements. Even when in direct contact with harsh weather, it protects your home and continues to look amazing day after day. James Hardie's siding materials are made to withstand rain, hail storms, ice, snow, high winds, extreme humidity, and drastic changes in temperature; its durability is next to none!
Resistant to Weather, Fire, and Pests
This siding is moisture-resistant, saving homeowners the burden of having to perform repairs due to rotting, warping, or swelling.
James Hardie siding is also resistant to flame; a house fire is any homeowner's worst nightmare. Thankfully, James Hardie siding is non-combustible, meaning it will not ignite when exposed to direct flames. Even if you have a fire that is already burning, this sighting will not contribute as fuel.
Lastly, Hardie Board siding is completely pest-resistant, including carpenter ants and termites. It is all so resistant to woodpeckers, meaning you never have to worry about the hassles of getting your siding repaired due to any pest damage!
Endless Customization and Color Choices
The customization options are nearly endless when it comes to James Hardie siding. You'll find a vast array of colors to choose from, allowing you to find the perfect siding that matches your home's style and aesthetic.

Added Curb Appeal
Not only is Hardie Board siding some of the strongest siding on the market, but it is also quite beautiful. The right Hardie Board siding can add to your home's curb appeal, impressing the entire neighborhood while improving your home's resale value as well!
Environmentally-Friendly Siding Products
James Hardie siding is developed from a combination of non-toxic materials, including cement, sand, and cellulose fibers. The James Hardie company manufactures its many products nationwide, sourcing local materials to minimize the negative environmental impacts of transport.
Thanks to the fact that James Hardie siding is made to last for many decades, there is less need to produce more of it, and you won't find as much of it in landfills!
Trusted Warranty on All Siding
Beyond its durability and excellent curb appeal, James Hardie siding is meant to last. The company is so confident in its product that it offers a 30-year warranty! You get the satisfaction of having beautiful and durable siding on your house with peace of mind that comes from a quality warranty.
Other siding companies often decrease their warranty coverage on their products after many years go by post-installation. This is where James Hardie coverage differs. As an additional perk for homeowners, James Hardie ColorPlus Technology has a 15-year warranty against cracking, peeling, and chipping. This warranty also includes labor and materials!

Trusted Siding Products from James Hardie
No matter the design of your home, you'll find a wide range of James Hardie siding styles and products to choose from to elevate its look and character. Let's check out a few of the most popular and trusted James Hardie siding options. 
Plank and Shingle Siding
Plank and shingle siding are two of the most popular options in the James Hardie lineup, with the HardiePlank Lap siding being the most popular choice in North America. You'll find a wide range of styles and colors to pick from in order to complement your home's existing aesthetic perfectly.
You may also decide to go for the HardieShingle siding, which mimics the style of cedar shakes. Depending on your preference, you can choose between straight-edge or staggered-edge panels. Contact us today for more information!
Vertical Siding
James Hardie's vertical siding, otherwise known as HardiePanel siding, offers a unique contrast to your standard horizontal siding, as the boards are positioned vertically on your home. Also, with HardiePanel siding, James Hardie offers several styles and color options to choose from!
Trim and Soffit Products
To add the finishing touches to your siding project, we recommend complementing your Hardie Board siding with HardieTrim boards. You can use James Hardie trim products to accentuate your home's doors, windows, fascia, columns, and more.
We also offer HardieSoffit products, which cover the undersides of your outdoor porch ceilings or your roof eaves. James Hardie Soffit Products are offered in vented and non-vented styles to meet local codes and regulations. Contact us today for more information.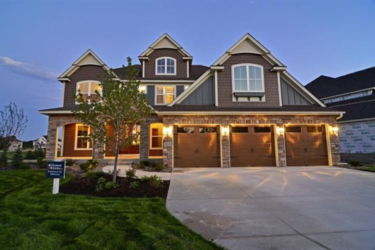 Why Work with Tevelde and Co. for James Hardie Siding?
When looking for the right siding contractor to install your James Hardie siding, there are many things to look for. You want to make sure the contractor has a quality James Hardie portfolio, proof of insurance, a local resume, and years of experience.
When you work with the team of contractors here at Tevelde and Co., you work with an experienced team that is bonded and insured, providing customers with reliable work 100% of the time. Not to mention, we are proud to operate as a James Hardie preferred contractor! Our dedicated team knows James Hardie siding in and out and is ready to help you repair or update your home with your needs in mind.
We take the guesswork out of installation with our experienced team of installation professionals. James Hardie only certifies the best contractors, ensuring homeowners have confidence when hiring a James Hardie installer. With rigorous approval standards, we can ensure outstanding work when you hire our team to install James Hardie siding! 
Contact Us Today for More Information
Tevelde and Co. has been a staple in the Omaha area for many years. We have a dedicated and experienced team of home improvement experts ready to take on home renovation projects of all shapes and sizes.
If you are looking for a reputable and reliable contractor to install James Hardie siding on your home, Tevelde and Co. is here to make your project a success! Get in touch with us today for a free consultation.


"High quality work, great pricing, and absolutely zero hassle or stress! Thorough explanations of exactly what you're paying for and why."
— BRANDON L.