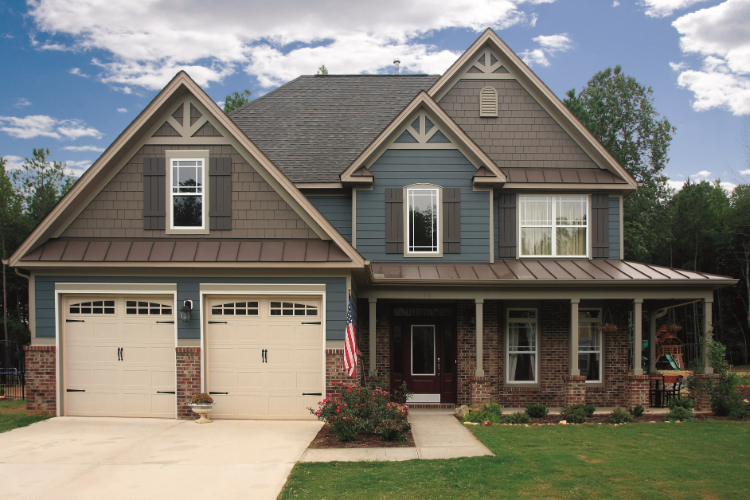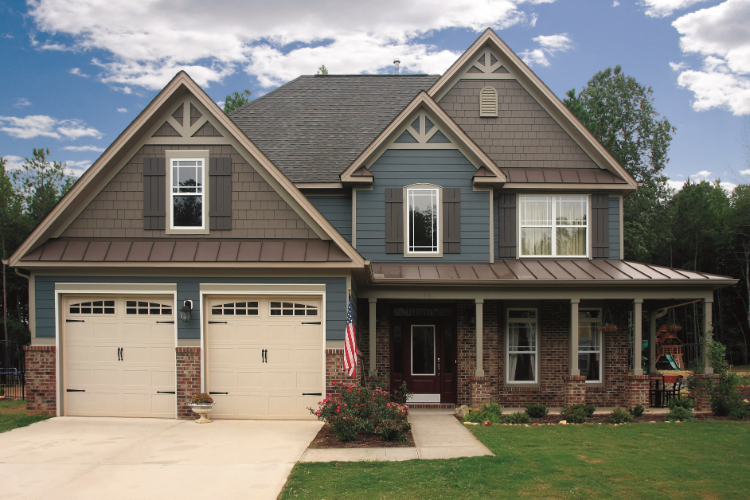 James Hardie Fiber Cement Siding's Makeup
James Hardie fiber cement siding, also called Hardie Board and Hardie siding, is America's #1 choice for home siding, and for good reason. It's long-lasting, beautiful, and low maintenance. Fiber cement is made of Portland cement, sand, water, and cellulose fibers. This composition will change depending on who manufactures it. The James Hardie company includes propriety additives that strengthen the performance of the product. TeVelde and Co. proudly installs James Hardie siding.
Benefits of Fiber Cement Siding
Fiber cement siding outperforms other popular siding materials such as wood and vinyl. James Hardie, the top siding choice for over 8 million homeowners in America, has a variety of benefits including:
Moisture and rot resistant
Moisture penetration can cause most siding materials to swell and crack. When siding is compromised, damage occurs. James Hardie fiber cement siding is engineered to stand up against moisture. It will not crack or warp, regardless of how much rain, sleet, or snow you have in your area.
Durable
James Hardie fiber cement siding is long-lasting. It will look fabulous for years to come. It lasts up to 50 years, saving you time and money. Other siding materials last only 20 to 30 years, and they need to be replaced at that time. But with James Hardie siding, this strong product lasts for up to five decades.
Color that lasts
The James Hardie company created ColorPlus® technology to ensure your siding's color endures. You not only get gorgeous color, you get color that lasts longer than typical paint. ColorPlus technology provides the James Hardie company's proprietary finish inside a controlled factory environment to optimize adhesion and give you color that lasts. Between coats, they cure the finish for an even stronger bond that won't chip, peel, or crack. ColorPlus technology is UV resistant.
Most home exterior paint fades over time due to sun exposure. But ColorPlus technology resists fading, and looks great for longer periods of time than other paint. ColorPlus technology comes with a 15-year limited warranty. James Hardie company has narrowed the search for optimal home exterior colors, taking the guesswork out of color selection. Their color experts created a stunning collection of shades that look fabulous on home exterior siding.
Statement Collection™
This gorgeous selection of colors consists of your region's most popular ColorPlus technology colors. These are locally stocked, readily available, and ensure your house will look beautiful.
Dream Collection™
The James Hardie company helps your dreams become reality with beautiful selections from their Dream Collection of colors. Featuring more than 700 ColorPlus technology finishes, the colors give you endless design possibilities and high performance.
Home color tool
Experiment with ColorPlus technology colors on different home styles to find the perfect shade for your home. This convenient online tool will help you see what different colors will look like on your home, giving you confidence in your final selection.
Low-maintenance
When homeowners choose ColorPlus technology, they won't need to repaint their homes for up to 15 years, saving time, money, and hassle. When it comes time to clean your siding, simply use a medium nylon brush to remove dirt, and a garden hose to rinse it. This should be done twice a year to keep your siding looking its best.
Customizable
Fiber cement siding is a thick material that can easily mimic other siding materials. It has multiple finish office options including:
Woodgrain – This mimics traditional wood siding so well, it's hard to tell the difference when you look at a home from the street.
Stucco – For a clean, modern, contemporary look, get this gorgeous siding. It mimics the look of stucco, but saves you from the high maintenance and repairs stucco requires.
Warranty
James Hardie fiber cement siding is backed by an outstanding warranty. This 30-year, non-prorated, transferable warranty gives homeowners peace of mind. Simply have your siding installed by a James Hardie Preferred Contractor, and your warranty will be protected.
How James Hardie Siding Compares to Other Siding Types
Hardie vs. Vinyl
When you choose James Hardie fiber cement siding, you choose durable, high performance siding that makes your home look gorgeous for years to come. James Hardie siding is a greener siding option than vinyl siding. Its price is comparable to vinyl siding with insulation, but James Hardie siding lasts decades longer, making it a better investment.
James Hardie siding outperforms vinyl siding when it comes to appearance. Hardie Board is over five times thicker than vinyl, allowing for deep grooves and an authentic woodgrain look. Vinyl tends to melt in a fire, but James Hardie siding is noncombustible. Vinyl may crack or warp due to weather elements, but Hardie Board siding resists warping and melting.
Hardie vs. Wood
When we compare James Hardie siding to wood siding, wood siding looks beautiful, but it comes with a price: high maintenance. If wood siding is not maintained well, it absorbs moisture, which causes costly damage. From mold to wood rot, moisture that penetrates wood creates the need for repairs. In contrast, James Hardie siding resists moisture and endures weather elements.
Styles and Colors of James Hardie Siding
James Hardie fiber cement siding can be customized to match your home's architecture and your style preference. Choose from a variety of colors, textures, and styles to get the best look for your home.
HardiePlank®
HardiePanel®
HardieShingle®
HardieTrim®
HardieSoffit®
TeVelde and Co.—a Reliable Omaha Siding Contractor
When replacing siding, it's vital to the performance of the product that it is installed with precision. At TeVelde and Co., we are a James Hardie Elite Preferred Contractor, so your siding will be installed according to the manufacturer's guidelines and your warranty is protected.
Learn more about how James Hardie siding products and how they can beautify and protect your home.