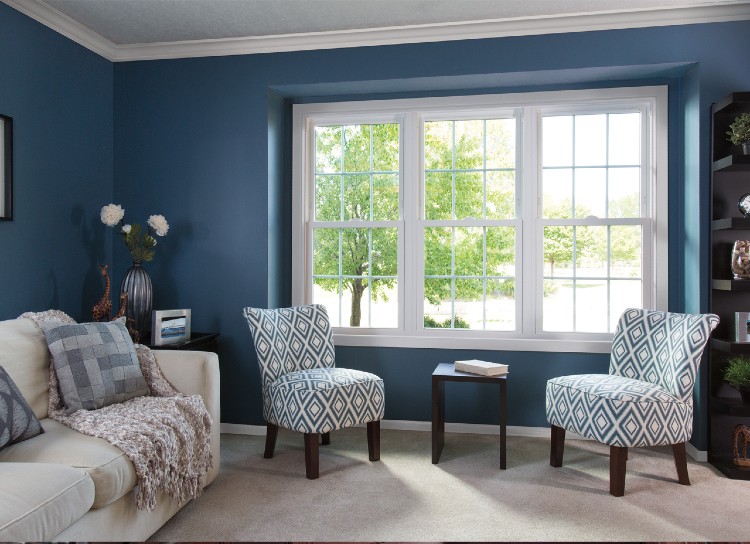 Double hung and single hung windows may look similar, but their functional differences set them apart. Gaining understanding of each of these viable options can help pinpoint the best replacement window for your home.
Benefits of Double Hung Replacement Windows
A double hung window has two stacked, moveable sashes (the portion of the window that holds the windowpane). Because there are two movable sashes, double hung windows can slide both down from the top, and up from the bottom.
Ventilation
Interestingly, both sashes are able to open simultaneously, creating optimal ventilation. Warm air from your home exits through the top opening, and fresh air enters through the bottom opening. Ventilation provided from double hung windows is ideal for rooms that tend to retain moisture such as kitchens and bathrooms.
Maintenance
These windows are super easy to clean (from indoors) because both the top and bottom sashes tilt inward. They work well particularly in the upper level of your home. These require some upkeep because gravity pulls on the upper sash and the frame and seals get more wear due to the moving parts.
Installation
If these are not installed by an experienced professional, their parts may break down over time, hindering their performance.
Energy efficiency
For best results, choose at least double paned windows and prioritize U Factor ratings. When double hung windows are properly installed, you get the maximum ventilation and can save money on cooling your home.
Cost
No matter what kind of window you chose to install, many factors affect the cost of replacement windows. Consider:
How big are your windows?
Will they fit in the existing hole or will the hole need to be adjusted?
Will the siding and surrounding wrap need fixed, adjusted or replaced?
Ultimately, choose the window that best suits your purpose and needs for now and the long haul. The installation cost will be similar no matter what you choose, so if you're going the expense of install, you should make it worth your time and investment.
Glass options
Double hung windows can hold multiple panes of glass, giving homeowners options from which to choose.
Safety and durability
The two locks on double hung windows increase overall safety. The fact that these can open from the top (while keeping the bottom closed due to small children or pets in the home) provides an added element of safety.
Common uses
Double hung windows work excellently on the second floor of a home, as they are simple to clean (in lieu of hiring someone to clean single hung, second floor, out-of-reach windows). These work excellently in many architectural styles.
Customization
Choose from a variety of replacement window styles to complement your home.
Materials they come in
Double hung windows come in fiberglass, wood, and vinyl.
Benefits of Single Hung Replacement Windows
A single hung window has a stationary sash on the top and a moveable sash on the bottom. The bottom half of the window slides upward, and overlaps the top sash as you open the window. If you desire the classic look of a fixed sash (for an authentic look in historic homes), single hung windows are for you.
Ventilation
Single hung windows provide excellent airflow into your home, but it's only one way—through the bottom of the window. The double hung style provides the optimal set up for airflow both into and out of your home because you can open both the top and the bottom of them.
Maintenance
Single hung windows typically don't tilt inward, making them harder to clean than double hung. Cleaning the outside of these windows is done from the outside. For safety, when windows don't tilt inward, most homeowners hire a cleaning service to tackle window cleaning on the second level of their home.
Installation
Replacement window installation for single hung windows is best done by the pros, but some DIY enthusiasts choose to install these themselves.
Energy efficiency
For best results, choose at least double paned windows and prioritize U Factor ratings. Single hung windows give you an airtight fixed sash which contributes positively to energy efficiency, but their limited ventilation means you may have to invest more to cool your home.
Cost
Single hung can be a more cost-effective window replacement solution. However, the installation cost will be similar to any other option. Be sure to talk with your home exterior remodeling contractor to understand your options and what will work best for your needs and short- or long-term goals for your home.
Glass options
Single hung windows can accommodate multiple panes of glass per sash, giving you options.
Safety and durability
With fewer moving parts and a fixed sash, leaks are not likely. Single hung window frames are not used as much over time and contribute to their long-term performance.
Common uses
For the preservation of an authentic historic home's look, choose single hung windows. They are cost effective and work well on the first floor of a home.
Materials they come in
Single hung windows come in fiberglass, wood, and vinyl.
Note: When shopping for egress windows, choose casement windows (rather than single or double hung windows) to meet code requirements. They must be big enough for a person to fit through.
An Investment That Pays Off Both Now and Later
Enjoy gorgeous window replacements while you live in your home, and get the added benefit of boosting your resale value. The return on your investment is substantial when you sell your home. Most buyers understand that window replacement is a sizable investment, and when your home has new windows, it holds greater value.
Fiberglass, Aluminum Clad, and Vinyl Window Replacement Costs
Replacement window prices vary based on material, window size, number of panes, hardware, style and more. Generally, vinyl windows are least expensive and fiberglass and aluminum clad increase from there. Be sure to do your research and buy what's best for you home and financial situation. Keep in mind that installation costs will be similar no matter what you select for window products, so if you're going to invest in windows, as your home remodeling contractor about financing options to make your window replacement project more affordable.
Get Local Window Installation You Can Trust
As a top Omaha window replacement contractor, Tevelde and Co. installs fiberglass, wood, and vinyl replacement windows with precision and care. If you are considering new windows for your home, we can help you pick the best choice. Get a free consultation with us today.